For individuals who are thinking about becoming a dump truck driver, it's important to understand all aspects of the job. This means becoming familiar with the competency requirements as well as daily duties that will be expected of them.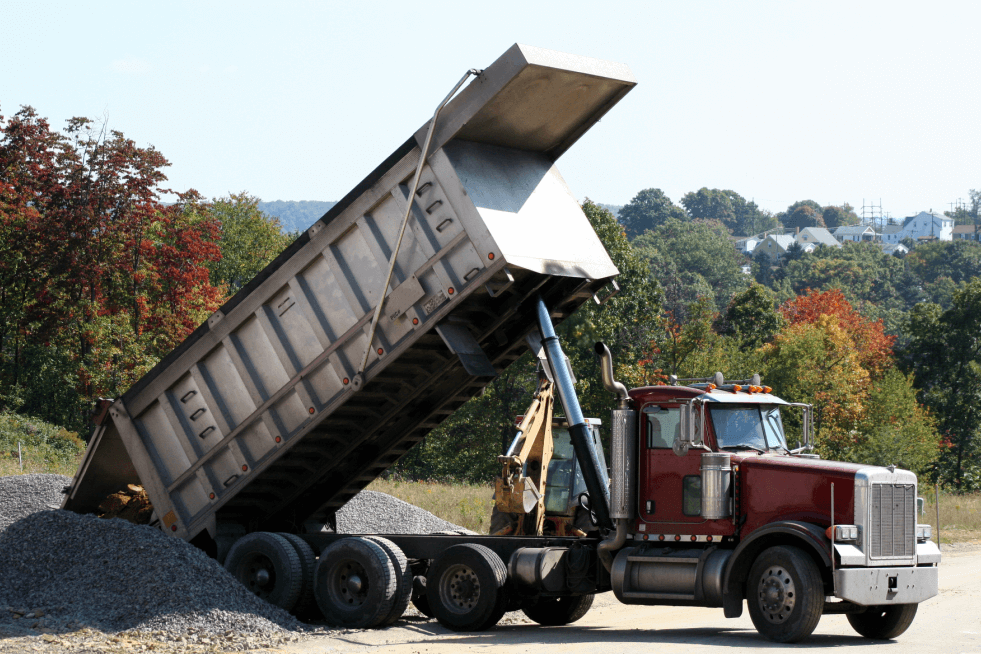 For those looking to have a career driving a dump truck, it's recommended that you take appropriate training, such as getting your Commercial Driver's License or CDL.
Is a License Necessary?
Yes, you'll need a Class B Commercial Driver's License to drive a straight dump truck. To operate a larger dump truck, like a tractor trailer dump truck where you're towing over 10,000 pounds Gross Vehicle Weight Rating (GVWR), you'll need a Class A CDL.
Dump Truck Training
In order for you to drive a dump truck, you are required to get a Class B CDL. It's recommended for drivers to get training at a local trucking school, especially if you have little truck driving experience.
Commercial Drivers License Essentials
For CDL program essentials, most schools provide education and practical skills required to be qualified for entry-level, supervised over-the-road or in-town driver of tractor-trailers, heavy duty trucks, dump trucks, and medium-sized delivery trucks.
Typically, most training programs incorporate classroom instruction, hands-on labs and independent study, and significant behind-the-wheel driving time on public roads or the school's practice range.
Straight Truck Class B Driver
Some schools offer programs specifically for learning how to drive "straight trucks" – trucks such as dump trucks, delivery trucks, waste trucks, water trucks, and concrete mixers.
Straight trucks programs typically includes preparation for CDL tests and basic skills instruction, as well as learning the following skillset:
Shifting or operating transmissions
Backing up truck and docking
Space management
Vehicle Communications
Extreme driving conditions
Vehicle maintenance
Pre-and post-trip inspections
Courses through all schools vary, with each lasting anywhere between 3-7 weeks.
The cost of this type of course varies based on the school and can run anywhere from $1,500 to $6,000. In order to qualify to take this course, drivers may have to show:
Proof of being over 18 years old
Valid state driver's license
Clean driving record
In addition, if you want to operate specialized dump trucks, you may be required to take further training such as HAZMAT and passenger endorsements on their CDL.
How Long Does it Take to Become a Dump Truck Driver?
For individuals who go through school, it can take anywhere from 3-7 weeks to become a dump truck driver. However, for those who simply choose to get their CDL by taking a driving test, the process can go much more quickly once they are approved for their license.
How Much Will a Dump Truck Driver Make?
The salary of a dump truck driver will depend on place of employment, experience, training, and special endorsements obtained for a CDL. However, some averages include:
$18.16 per hour
$38,000 per year
According to the U.S. Bureau of Labor Statistics, dump truck driver salary falls under the heavy and tractor trailer driver category where the median pay is $45,260 per year or $21.76 per hour in 2019.
As well, BLS noted that pay has steadily increased over recent years, so those who choose this as a career can look forward to opportunities for higher pay in the future.
For those who wish to make more money quickly, they may want to consider learning how to move high-risk materials, such as coal. Additionally, gaining the experience needed to become a supervisor can result in being paid more (albeit with more responsibilities).
Where Can Dump Truck Drivers Find Employment?
One of the most desirable aspects of being a dump truck driver is the fact that it's a flexible career with a number of opportunities. These include:
Employment by a Company
For those who want to get started with this career quickly, the best option is to find employment through the many truck driving companies that are situated throughout the United States. Rural areas tend to have more opportunities, although this varies based on the specific town and how much construction work is regularly going on. Another advantage of working for a company is the fact that they provide security with pay, opportunities to work overtime, insurance, flexibility with hours, a truck, and in some situations, training.
Self Employment
For those who want to maximize their income and/or want flexibility, becoming a self-employed dump truck driver may be a good option. However, it's important to consider the expenses that will be incurred before this career can really begin. These include:
Insurance
Licensing
Dump truck purchase
Business fees
Marketing
What is the Demand Like for Dump Truck Drivers?
Annual growth in this industry is expected to be around 4% in the next few years. With construction activity increasing due to a stimulated economy, this means there will be a higher demand for professionals who are able to drive dump trucks.
For those who are able to drive longer distances, they may be able to make even more. With such a positive outlook, this can be an excellent career choice that provides a number of opportunities every year.
Is Dump Truck Driving Right For You?
If you are comfortable driving larger vehicles and are willing to learn about construction materials while spending a lot of time on the road, this may very well be an ideal career choice ofcourse dump truck training will be mandatory.
The relatively simple entry process makes it even more attractive, especially for those who desire to get started with a job without having to obtain a degree first.
However, before spending time getting your CDL or going to Truck Driving School, it's recommended to look around your area specifically to see opportunities that are available. This will help you determine if you might need to move or should look into a different career that's more in-demand for your area.
Geoff is a freelance writer at TruckersTraining.com with 20+ years of experience driving trucks and buses, dispatching, supervising, and training commercial driving teams. His expertise is writing topics on the transportation and trucking industry, and information technology trends.