About: Truckers Training is a comprehensive online resource tailored to aspiring truck drivers in the United States. Our platform provides invaluable guidance on obtaining a commercial driver's license (CDL), selecting the right truck driving school, and advancing a successful career as a CDL driver. Through informative articles, expert reviews of truck driver accessories, and affiliate partnerships with Career Now Brands and Amazon, we empower individuals with the knowledge and tools they need to excel in the dynamic world of trucking. (hereinafter referred to as the "Service").
Acceptance: Your relationship with us shall be governed by this Disclaimer, our Terms & Conditions and our Privacy Policy statement posted on the website. By accessing and/or using the website, you accept and agree with this Disclaimer, and all our terms and conditions.
Disclaimer:
a)  Educational Content: The content provided on the website is intended for informational and educational purposes only. While every effort is made to ensure the accuracy and timeliness of the information, Truckers Training makes no representations or warranties of any kind, express or implied, regarding the accuracy, reliability, completeness, or suitability of the content.
b)  No Professional Advice: The information provided on the website is not a substitute for professional advice, consultation, or services. Users are encouraged to seek qualified advice from relevant experts or professionals before making any decisions based on the content presented.
c)  Affiliate Links and Products: The website may contain affiliate links to third-party websites, including Career Now Brands and Amazon. Truckers Training does not endorse, warrant, or guarantee the quality, availability, or suitability of products, services, or information provided through these affiliate links. Any transactions or interactions with third-party websites are at your own risk.
d)  Career Now Brand Form: It is important to note that the Website may display forms or links related to Career Now Brands, which collect personal information from interested students. Truckers Training neither controls nor has access to the information submitted through these forms. Users are encouraged to review the terms and policies of Career Now Brands regarding data collection and usage.
e) User-Generated Content: The website may feature user-generated content, such as comments, forum discussions, or contributions. Truckers Training does not endorse or verify the accuracy, legality, or reliability of such content. Users engaging with user-generated content should exercise their own judgment and discretion.
f)  Availability and Functionality: While efforts are made to ensure the availability and functionality of the website, Truckers Training does not warrant uninterrupted access, freedom from errors, viruses, or other harmful components. Users access and use the website at their own risk.
g)  No Liability: In no event shall Truckers Training, its owners, employees, affiliates, or partners be liable for any direct, indirect, incidental, special, consequential, or punitive damages arising out of or related to the use of the website or its services, even if advised of the possibility of such damages.
h)  Third-Party Trademarks: Trademarks, service marks, logos, and brand names of third parties mentioned on the website, such as Google, Amazon, and Career Now Brands, are the property of their respective owners.
i)  No Endorsement: Reference to any specific product, process, or service by name, trademark, manufacturer, or otherwise does not constitute or imply endorsement, recommendation, or favoring by Truckers Training.
j)  No Warranties: The website, affiliate links, advertisements, and all our services are provided on an "as-is" and "as available" basis, and Truckers Training (and our officers, licensors, and affiliates) expressly disclaim any and all warranties and conditions of any kind, whether express, implied, or statutory, including all warranties or conditions of safety, legality, fitness for a particular purpose, or accuracy. We (and our licensors and affiliates) make no warranty that the website will meet your requirements, or will be available on an uninterrupted, timely, secure, or error-free basis.
Contact Us: For any query or assistance, please write us at truckerstraining@gmail.com.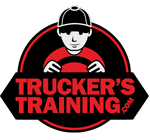 TruckersTraining.com provide information, tools and resources to potential truck drivers in the U.S. We hope that you can use the content on the site to help you decide if want to drive trucks for a living.