Are you thinking about becoming a professional truck driver? You probably asked yourself: how much can I make as a trucker? Or will my trucker salary sustain my family? Will my pay be measly or is it possible to earn $100K a year driving trucks? What will road life be like…is it worth it?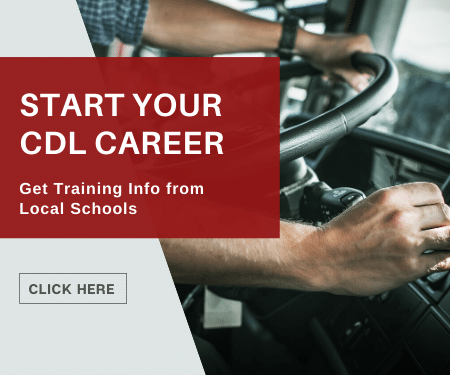 What you earn on the road depends on many factors, and this comprehensive guide analyzes what you can make as truck driver in North America and how you can increase your income. It will even tell you about other circumstances, like where you live and what you can do to get the highest possible wage over the long term.
Although you might not be able to make $100,000/year off the bat, but given the truck driver demand, and with experience, specialization, CDL training and the right company, you can make $80,000+ on a trucker salary.
Summary of Report
Median annual salary of truck drivers = $48,310 ($23.23 per hour), mean annual salary = $50,340 ($24.20 per hour)
The top 10% of truck drivers made more than $72,730 per year in 2021, the lowest 10% made less than $30,710.
Trucker's income is affected by CDL, experience, the state you work in, or the company you work for
To increase a driver's wage – get into specialized work or obtain endorsements to have an advantage over other candidates
The best jobs in truck driving are the ones that take you out on the open road. There are plenty of opportunities, so it means there is something for most everyone who wants to be a trucker.
Drivers with Class A commercial drivers licenses (CDL) and experience in over the road (OTR) driving heavy or tractor-trailer trucks tend to get the better positions. Once you get the experience on the road the possibilities for a well-paid driving career open up wide like the highway ahead of you.
The future need is projected to be for an additional 160,000 OTR truck drivers, over the next ten years, to account for the growth of the trucking business and to replace current workers who leave the industry.
According to American Trucking Associations (ATA), freight volume has increased but the truck-load market cannot add capacity due to a shortage of drivers.
A career in trucking is in high demand, and this guide will explain how you can earn more than the median income, how they calculate truck driver pay, and the different options you can choose to find the well-paid career path that becomes a fulfilling lifestyle for you.
Truck Driver Salary
Let's start out by taking a look at the fundamental industry statistics. According to The Bureau of Labor Statistics, the government agency that publishes employment figures, the 2021 median heavy and tractor-trailer truck driver pay was $48,310 per year or $23.23 per hour among 1,951,600 drivers.
The lowest 10% of the drivers made less than $30,710 a year, however, the highest 10% of the truckers earned more than $72,730 per year.
And Glassdoor.com shows truck driver salaries average base pay of $70,915 based on almost 56,000 salaries  across the United States (as at January 24, 2023). See the following image:
At Indeed.com, truck driver salary is $77,335 (as at January 24, 2023) they show a higher trucker compensation. The variance likely is due to who is reporting the salary, his/her experience, and his/her specialty.
In both images above, there is a significant variance between the upper and lower salaries among drivers, which is a result of experience, education/training, specialization, location and the company that you're employed at.
New vs. Experienced Drivers
How much you earn as a truck driver is determined by how much experience you have at the wheel of a truck, whether you have a CDL, if you work for yourself or not, specialized work, and much more.
Obviously as a new driver you will start at the bottom of the pay scale. If you go through a trucking company to get your training and licensing you will most likely get paid a flat rate weekly. Most companies average around 500 weekly for the time that you're in training.
Once you are on your own, most companies will pay within the range of 28-60 cents a mile. Your best bet to make more money as a new driver is to find a smaller trucking company to work for – they tend to start in the .35 cent range.
Most trucking companies do have sliding pay scales where after a year or six months your pay rate goes up, most companies have it at a 2 cent raise. After that the raises usually go yearly up to a certain number of years, most usually three years.
Here's a table we put together to compare current truck driver jobs in the market using Indeed.com (as at December 28, 2021). The top paying jobs typically require a CDL, some experience and some endorsements.
| Truck Driving Companies | Job | Qualifications | Yearly Salary |
| --- | --- | --- | --- |
| Walmart | CDL A Regional Truck Driver | Class A CDL Interstate (required) with HAZMAT endorsement (cleared background check), Min. 30 months CDL A experience or completion of Walmart Fleet Development Academy Program | up to $110,000 |
| Freight Management Group Inc. | Class A CDL Regional Truck Driver | Class A CDL, 2 years commercial driving experience preferred | $70,000 - $80,000 |
| Long Haul Trucking | CDL A - OTR Truck Driver | Class A CDL, minimum 2 years verifiable tractor, flatbed trailer driving experience in last three years | $90,000 |
| Pilot Flying J | DEF Truck Driver | Class A CDL, 1 year of tractor-trailer driving experience, and Tanker endorsement | $91,000 |
| Sysco | CDL A Driver | Class A CDL, clean driving record | up to $100,000 |
| Penske | Local Class A Driver | CDL A | $85,900 ($5,000 signing bonus) |
| Occidental Petroleum Corp. | Class A Truck Driver | CDL A, have ability to obtain a tanker, and hazardous materials endorsement | $100,000 |
| D&A McRae Inc | Crude Oil Hauler | Class A CDL, 2yrs commercial driving, Doubles/Triples Endorsement, Hazmat Endorsement (Preferred) | $95,000 |
| Indeed.com data (as at Jan. 11, 2023) | | | |
Hourly Pay for CDL Holders vs. Non
Do you need a CDL to have a great driving job? Well, the short answer is yes.
The problem with driving jobs that you can do with a private driver's license is that employers expect that almost every other employee has a private license and can do the job too. That means that there is no difference between non-CDL drivers and workers in other service positions.
Having your CDL gives you an edge over someone who doesn't – an employer will almost always select a truck driver that has their Commercial Driver's License over someone without.
| | Non CDL | CDL |
| --- | --- | --- |
| New Truck Driver | $8-$12 per hour | $17 - $19 per hour |
| Experienced | $8-$12 per hour | $19 - $50+ per hour |
Interested in getting CDL training?
How Truckers Earn a Living
The Over the Road Income Model
The transportation industry treats professional truck driving as piecework.Where most non-salary employees earn their income by the hour, truckers do it by the mile.
You will see pay listed as "cost per mile" or CPM, which is the rate that you earn behind the wheel. The CPM and the number of miles you can drive in a day determine your earning potential of your OTR job.
Here's an example of what your pay can look like working as a truck driver at Prime Inc.
Speed limits, negotiating city streets and time at the loading dock, waiting to load or unload; you have very definite limits to your income. State and Federal regulations that regulate interstate trucking also place strict limits on how many hours you work.
In reality, with waiting times and heavy traffic, you will most likely find that a realistic distance that you can cover in a day is around 450 miles.
Other Payments that Round Up the Salary Package
If you are earning based on CPM and you have an employer that values your work, you will likely get other types of payments to make up for the fact that business requires you to wait or cut your day short on many occasions. Examples of this include:
Performance bonuses of as much as $0.05 CPM paid monthly or quarterly
Referral bonuses of $2,000 per hire or more
Hiring bonuses of $6,000 or more
Payment for time spent waiting due to operational stops or delays
Attractive medical, dental and other insurance packages
Do Some States & Cities Pay More than Others?
The income potential for trucking careers is remarkably uniform throughout the United States. However, there is some variation in the average earnings that heavy and tractor-trailer truck drivers earn across the United States that does not seem to be related to the cost of living.
For those who want the career and to maximize the income potential, it could be a very sensible option to consider applying for positions in a region or transportation hub that has a lower cost of living and higher earning potential.
Highest Income Potential by State
Top Paying States for Truck Drivers
| State | Hourly Mean Wage | Annual Mean Wage |
| --- | --- | --- |
| Washington | $27.49 | $57,190 |
| District of Columbia | $27.18 | $56,530 |
| Alaska | $27.13 | $56,440 |
| New Jersey | $27.09 | $56,340 |
| New York | $26.63 | $55,390 |
Source: BLS, 2021
Top Paying Cities for Truck Drivers
| City | Hourly Mean Wage | Annual Mean Wage |
| --- | --- | --- |
| Cape Girardeau, MO-IL | $30.10 | $62,600 |
| San Francisco-Oakland-Hayward, CA | $29.95 | $62,290 |
| San Jose-Sunnyvale-Santa Clara, CA | $29.59 | $ 61,540 |
| Seattle-Tacoma-Bellevue, WA | $28.86 | $60,020 |
| Danville, IL | $28.58 | $59,440 |
| New York-Newark-Jersey City, NY-NJ-PA | $28.17 | $58,580 |
| Fairbanks, AK | $28.15 | $58,550 |
| La Crosse-Onalaska, WI-MN | $28.08 | $58,410 |
| Iowa City, IA | $27.89 | $58,000 |
| Cedar Rapids, IA | $27.67 | $57,550 |
Source: BLS, 2021
Truck Drivers Salaries Comparison
We put together a table that compares different trucking jobs in the industry, and their median wage and reported high income.
As you can see the compensation between job functions in trucking varies.
| Trucker Job | Median Pay | Reported High Income |
| --- | --- | --- |
| LTL Line-Haul Trucker | $48,000 | $72,000 |
| OTR Freight Trucker | $48,000 | $62,000 |
| Intermodal Trucker | $48,000 | $72,000 |
| Flatbed Tractor Trailer Drivers | $48,000 | $72,000 |
| Dry Bulk Grain Hauler | $54,000 | $120,000 |
| Refrigerator Trailer Drivers | $52,000 | $80,000 |
| Liquid Bulk Hazmat | $54,000 | $120,000 |
| Heavy Equipment Transporter | $60,000 | $150,000 |
| Car Transport Driver | $73,000 | $120,000 |
| Ice Road Trucking | $40,000 | $210,000 |
| Dump Truck Or Cement Truck | $38,000 | $60,000 |
| Grocery Services Delivery | $38,000 | $80,000 |
| Local Trucking - Straight Truck | $41,000 | $53,000 |
Ways to Maximize a Trucker's Earnings
Experience and the determination to find the right position counts for much in the search for a well-paid OTR driving position.
The following positions are examples of some of the jobs that are available to drivers with current certifications and years of experience behind the wheel.
Specialized Trucking Jobs with Higher Pay
Line Haul and Intermodal Driving Positions
According to Glassdoor.com line haul drivers' estimated total pay is just over $85,082 per year.
Line haul truckers move LTL freight between terminals, which may be more than 1,000 miles apart. Intermodal drivers do the same on shorter routes, earn about $15,000 less at $70,503 per year, however they get home nightly and take weekends off.
Hazmat Endorsement

Drivers with the right endorsements can earn extra income transporting hazardous materials.
These might be bulk liquids such as fuel for gas stations or industrial chemicals. You can typically earn a few cents to a few dollars more per mile over a regular type of load, depending on the type of material you're hauling.
Tank Endorsement
If you have your Tank endorsement, you can drive a truck designed to transport liquid in a tank that is temporarily or permanently attached to the chassis or the vehicle.
You can also transport any liquefied gaseous material in a permanent tank that requires placards.
Over Sized Loads
Moving over sized loads on heavy equipment transport trailers that accommodate cargoes of over 80,000 pounds. Here's an example of a job posting, where you can make between $65,000 – $100,000 per year.
Ice Road Trucking
For the adventurous and experienced driver who enjoys cold weather, ice road trucking can be a seasonal occupation that brings in more income than any other.
These high-salaried ice truckers make deliveries such as food, fuel, supplies and equipment to oil and mine workers in Canada and Alaska.
These truckers drive on frozen waterways to make these deliveries, making this job extremely dangerous. As much as these high-paying jobs are appealing, these opportunities are rare and only enjoyed by a select few.
Owner Operator Truck Driver
Owning your own transportation business can be lucrative, especially if you keep your expenses in check such as fuel and trucking gear, provide stellar customer service, and focus on growing your business.
An independent trucker's earnings can be significantly more compared to an employee, for example, a 500 mile a day average in a given year, can earn you about $156,000 (cpm $1.25) as an owner vs. $81,000 (cpm .65 cents) as an employee.
Check out other high-paying trucking positions.
Small vs. Large Company – Difference in Pay
In both large companies and small, you will have to deal with similar amounts of paperwork and with managers and other workers who interact with you on a daily basis. While you may feel more anonymous in a big corporation you still get noticed for you behavior, attitude, and performance; people skills make all of the differences in both cases.
Truck drivers are on the outside and engage with clients and vendors more than other employees would. You will be on the road in a vehicle that might have a logo the size of a billboard on its side. So people skills are an essential tool in the truck driver's toolkit, regardless of whether you're in the largest corporation or a family-run startup.
Small Companies
CPMs of $0.35 – $0.50 are typical for employees, OTE
More access to senior management or owners
More intimate connection to the business
More flexibility in job descriptions
The chance to take the initiative and contribute a winning idea
Small Company Cons
Small businesses owners may be less than crystal clear on the legal status of their drivers. If any employer wants to hire you as a "contractor", make sure that you get professional advice on what that means specifically, and whether it is the right choice for you.
Again, contractors and self-employed drivers carry the entire burden of taxes.  In return, they need a much higher CPM than employees just to break even. If you get an offer like $0.40 per mile as a contractor, run!
Large Companies
Employee CPMs of $0.23 – $0.60 are widely documented, OTE
Low CPMs tend to apply to inexperienced drivers
Likely to have more diverse driving positions available
You may have a path to management
Relocate to a region of your choice
Large Company Cons
There are some large trucking companies that hire and train drivers straight off the street. They are notorious for having very high driver turnover rates. They assume that the cost of training and the risks of operating heavy vehicles with inexperienced drivers is just a trade-off, a calculation that works out well for them.
There is a real difference at the end of the scale that hires easy and pays cheap. Some companies have developed a reputation for hiring anyone who might qualify for training, conduct the training in-house and send underpaid and inexperienced drivers out on the road alone.
Check out our review of the best truck companies to work for.
Conclusion
If you want to become a professional truck driver, start out by getting the best possible training and earning your CDL. Then find a fair and decent employer that will get you on the road gaining the OTR experience that will be the basis for your long-term career. It is likely that you will find out whether trucking is the way of life for you at this point.
There will be plenty of truck-driving jobs available in the next decade as the industry expands and existing staff turns over. Use this to your advantage to choose the route that gives you a lifestyle you enjoy and an income you can call a career. If it is the right career for you and you have the determination to stick with it until you succeed, you can be part of the elite.
Once you have two to five years' experience, seek that position that pays well, and you enjoy doing. Alternatively, start thinking about finding a specialized driving job, becoming an owner/driver and perhaps teaming up with a partner to make the best income while you have the adventure of a lifetime living and working on the road.
Geoff is a freelance writer with 20+ years of experience in driving trucks and buses, dispatching, supervising, and training commercial driving teams. His expertise is writing topics on the transportation and trucking industry, and information technology trends.