Truck driver salary is often what potential CDL students want to know before signing up for truck driving school. Other questions are can my truck driver pay sustain me and my family? Will I be earning peanuts or is it possible to make a decent wage being on the road as an occupation?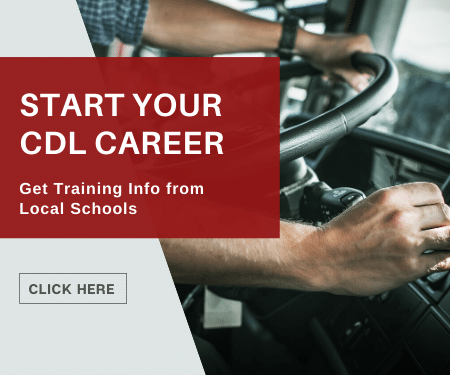 What you earn on the road depends on many factors, and this comprehensive guide analyzes what you can make as a truck driver and how you can maximize your income.
Truck Driver Salary in the U.S.
Truck Driver Salary: $51,000 – $168,000
Truck drivers with Class A commercial drivers licenses (CDL) and experience in over the road (OTR) driving heavy commercial vehicles or tractor-trailer trucks tend to get the better positions and the higher salaries among those who drive for a living. Once you get the experience on the road, the possibilities for a well-paid driving career open up wide like the highway ahead of you.
The average annual truck driver salary in the United States is $92,327, according to Indeed.com. The lowest reported trucker wage is close to $51,000, and the highest reported salary is $168,000, based on nearly 410,000 salaries posted on the site.
See below for the average annual salary for each state (Source: Indeed.com).
Average Truck Driver Salary by State
Factors that affect trucker compensation are:
CDL, endorsements and certifications you possess
Route type
Types of loads you move
Years and type of experience gained
Dangers and hazards of the job
Trucking companies you work for
Driving record
Location of your job
Let's look at the different types of truck driving jobs and their salaries.
Truck Driving Jobs and Salaries
OTR Truck Driver: $110,000
As an Over-The-Road (OTR) truck driver, also known as a long-haul driver, you operate tractor trailers over extended distances, typically across states and sometimes across national borders. OTR drivers are a critical component of the transportation and logistics industry, responsible for the delivery of goods from manufacturers and distributors to retailers and consumers.
Long haul truck drivers spend the majority of their working hours on the road, often covering thousands of miles each week. Their work involves not only driving but also planning routes, maintaining logs, ensuring the safety and security of their cargo, and performing basic vehicle maintenance.
Due to the nature of the job, OTR truck drivers often work irregular hours and must adapt to various road and weather conditions, demonstrating resilience and adaptability.
Line Haul Truck Driver: $82,000
Whereas Over-The-Road (OTR) truck drivers are accustomed to longer, often multi-state or international journeys, Line Haul Truck drivers typically work on more predictable, shorter routes. As a line-haul driver, you are usually home every night or after your shift is done.
Line haulers frequently operate within a regional network of terminals, transporting goods from one terminal to another.
Just like OTR drivers, line haul drivers play a fundamental role in ensuring the smooth operation of the transportation and logistics industry, each contributing in their unique way to the delivery of goods across the supply chain.
Intermodal Truck Driver: $59,000
As Intermodal Truck Drivers, like Line Haul Drivers, you typically have more predictable routes and hours. The key difference lies in the type of cargo you transport and the method of transportation used. While Line Haul Drivers move goods from one terminal to another, Intermodal Truck Drivers transport shipping containers that are loaded onto their trucks from ships, trains, or other trucks.
This transport method is termed as 'intermodal' because it involves multiple modes of transport (sea, rail, or road) within a single journey. Intermodal Truck Drivers play a vital role in this relay, ensuring that containers reach their next mode of transport on time. They are experts in handling heavy and oversized loads, and need familiarity with container locking systems and procedures at ports, railyards, and container yards.
LTL Truck Driver: $67,000
An LTL (Less-Than-Truckload) truck driver is responsible for transporting smaller, less-than-truckload shipments. Unlike their counterparts who typically carry large, single-piece loads, LTL drivers handle multiple shipments from different customers, all consolidated into one truckload.
The job involves driving the truck to various pick-up and drop-off locations, loading and unloading cargo, and ensuring the safe and timely delivery of goods. The work schedule of an LTL driver can be more predictable as they often operate within a regional area, returning home after each shift. This role requires excellent organizational skills due to the need to properly manage and handle different shipments, and customer service skills given the frequent interaction with clients.
Owner Operator Truck Driver: $324,000
Owning your own transportation business can be lucrative, especially if you keep your expenses in check such as fuel and trucking gear, provide stellar customer service, and focus on growing your business.
An independent trucker's earnings can be significantly more compared to an employee. For example, if you're working with a 2,500 mile per week driven on average, can earn you about $195,000 (cpm $1.50) as an owner vs. $84,500 (cpm .65 cents) as an employee.
Ice Road Truckers: $62,000
For the adventurous and experienced driver who enjoys cold weather, ice road trucking can be a seasonal occupation that brings in more income than any other.
These high-salaried ice truckers make deliveries such as food, fuel, supplies and equipment to oil and mine workers in Canada and Alaska.
These truckers drive on frozen waterways to make these deliveries, making this job extremely dangerous. As much as these high-paying jobs are appealing, these opportunities are rare and only enjoyed by a select few.
Oversized Load Truck Driver: $68,000
Oversized load truck drivers move oversized loads on heavy equipment transport trailers that accommodate cargoes of over 80,000 pounds. These loads can include large machinery, construction materials, pre-built homes, or wind turbine components, among other items.
The job demands extensive knowledge and expertise in complying with state and federal regulatory guidelines for oversized cargo, including securing appropriate permits, planning safe and legal routes, and coordinating with escort vehicles when required.
Additionally, these drivers must be proficient in handling the unique driving and maneuvering challenges that oversized loads present, ensuring road safety for themselves and other road users.
Tanker Driver: $83,000
If you have your Tank endorsement, you can drive a truck designed to transport liquid in a tank that is temporarily or permanently attached to the chassis or the vehicle. You can also transport any liquefied gaseous material in a permanent tank that requires placards. Your role as a tanker driver or liquid hauler role involves not only driving the vehicle but also adhering to strict safety protocols to prevent any potential spills or accidents.
If your are transporting hazardous materials, you will additionally need a Hazardous Materials endorsement. This requires passing a separate written exam and a background check by the Transportation Security Administration.
How Truckers Earn a Living
Cost Per Mile Income Model
The transportation industry treats professional truck driving as piecework. Where most non-salary employees earn their income by the hour, truckers do it by the mile.
You will see pay listed as "cost per mile" or CPM, which is the rate that you earn behind the wheel. The CPM and the number of miles you can drive in a day determine your earning potential of your truck driving job. Most truck drivers will make around .40 to about .55 cost CPM. Top drivers with many years of experience and consistent performance will earn .65 CPM+.
Speed limits, negotiating city streets and time at the loading dock, waiting to load or unload; you have very definite limits to your income. State and Federal regulations that regulate interstate trucking also place strict limits on how many hours you work.
In reality, with waiting times and heavy traffic, you will most likely find that a realistic distance that you can cover in a day is around 450 miles.
Here are examples of what your pay can look like working as a truck driver at Prime Inc.
Other Payments that Round Up the Salary Package
If you are earning based on CPM and you have an employer that values your work, you will likely get other types of payments to make up for the fact that business requires you to wait or cut your day short on many occasions. Examples of this include:
Performance bonuses of as much as $0.05 CPM paid monthly or quarterly
Referral bonuses of $2,000 per hire or more
Hiring bonuses of $6,000 or more
Payment for time spent waiting due to operational stops or delays
Attractive medical, dental and other insurance packages
Truck Driver Salary: New vs. Experienced Drivers
How much you earn as a truck driver is determined by how much experience you have at the wheel of a truck, whether you have a CDL, if you work for yourself or not, specialized work, and much more.
Obviously as a beginner driver you will start at the bottom of the pay scale. If you go through a trucking company to get your training and licensing you will most likely get paid a flat rate weekly. Most companies average around 500 weekly for the time that you're in training.
Once you are on your own, most companies will start you in the range of 28-35 cents a mile. Your best bet to make more money as a new driver is to find a smaller trucking company to work for – they tend to start in the .35 cent range.
Most trucking companies do have sliding pay scales where after a year or six months your pay rate goes up, most employers have it at a 2 cent raise. After that, the raises usually go yearly up to a certain number of years, most usually three years.
If you have been with your company for awhile, and you consistently deliver, you will be earning in the 65 cent+ cpm range.
Hourly Pay for CDL Holders vs. Non
Do you need a CDL to have a great driving job? Well, the short answer is yes.
The problem with driving jobs that you can do with a private driver's license is that employers expect that almost every other employee has a private license and can do the job too. That means that there is no difference between non-CDL drivers and workers in other service positions.
Having your CDL gives you an edge over someone who doesn't – an employer will almost always select a truck driver that has their Commercial Driver's License over someone without.
| | Non CDL Truck Driver Wage | CDL Truck Driver Wage |
| --- | --- | --- |
| New Truck Driver | $8 - $12 per hour | $17 - $25 per hour |
| Experienced | $10 - $22 per hour | $19 - $50+ per hour |
Conclusion
If you want to become a professional truck driver, start out by getting the best possible training and earning your CDL. Then find a fair and decent employer that will get you on the road gaining the OTR experience that will be the basis for your long-term career. It is likely that you will find out whether trucking is the way of life for you at this point.
There will be plenty of truck-driving jobs available in the next decade as the industry expands and existing staff turns over. Use this to your advantage to choose the route that gives you a lifestyle you enjoy and an income you can call a career. If it is the right career for you and you have the determination to stick with it until you succeed, you can be part of the elite, and earn a lucrative truck driving income.
Once you have two to five years' experience, seek that position that pays well, and you enjoy doing. Alternatively, start thinking about finding a specialized driving job, becoming an owner/driver and perhaps teaming up with a partner to make the best income while you have the adventure of a lifetime living and working on the road.
Geoff is a freelance writer with 20+ years of experience driving trucks and buses, dispatching, supervising, and training commercial driving teams. His expertise is writing topics on the transportation and trucking industry, and information technology trends.