The updated list of best trucking companies are those employers that are financially solid; pay well and offer good benefits.
We also looked at corporate culture and reputation, and satisfaction levels of employees at truck firms across the U.S.
So which truck organizations made the coveted list?
Jump to our detailed explanation of why these employers made our list.
Finding a Trucking Job
The TruckersTraining report looks at the largest national trucking establishments to determine the best ones to approach for potential employment. To get a job at a reputable trucking company can make all the difference in a trucker career that nets you great compensation, benefits and job satisfaction. Some of the top truckage corporations we list in this report should be no surprise, but some will.
If you are seeking driver training you will have priorities that focus on getting certified at the most reasonable cost. Experienced drivers will be looking for the best places to exploit their ratings and endorsements and experience. This report will provide you that guidance.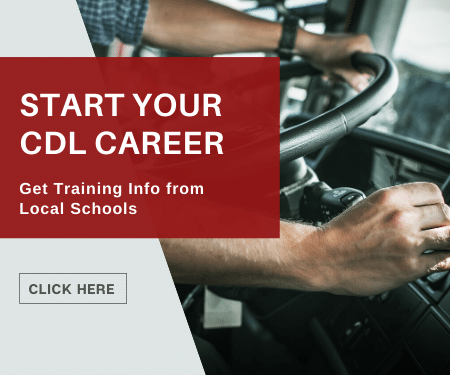 Trucking jobs are out there, as many positions go unfilled each year due to an ongoing shortage of drivers.
However, the standards of entry are high. This is an industry where there is an intense focus on safety. After all, when a company hands you the keys to an 80,000 lb. vehicle, full of valuable merchandise or commodities, they want to be confident that it will get where it is going.
They also want to be confident that the truck, with their company logo emblazoned on the side of it, will be a good citizen of the road. The expectations are high but truck driving is an enjoyable and rewarding way of life if you are the right person in the right job.
This report looks at what you can expect from transport companies and what their current and past employees think of them. It looks at career prospects and job availability. It draws on information from hours of research, website sources, reference books and our own careers to create a snapshot of the best organizations to be employed at as a trucker and driver.
What Type of Driving Job do you Want?
Truck Driving
Employers tend to specialize in the roles that they do best. Hauling single loads is different from moving less-than-truckload (LTL) cargo and the logistical setup of organizations to accommodate each has a different process. Dry or liquid bulk loads are something else again.
One of the defining features of any given driving position is how long your journeys will be. Driving OTR truckloads, pulling vans, flatbeds, or reefer trailers keep drivers away from home for days or even weeks at a time.
There are also plenty of shorter-distance driving jobs such as line haul driving jobs that move LTL freight from one depot to another, and back in a day, bringing the driver home every night. Intermodal truck drivers might have even shorter routes and faster turnaround tempos, picking up shipping containers and move them from ships in port to railheads many times a day.
The fundamental question to ask is: How long do you want to be away from home at a time?
Bus Driving
Bus or Coach driving demands the highest level of customer service skills as you might be dealing with the general public when they are not at their personal best. If you can handle that it might be an enjoyable opportunity even though the Bureau of Labor Statistics (BLS) says that the mean annual income for bus drivers (transit and intercity) was $51,310 or $24.67 per hour in 2021. And the mean annual salary for truckers in the U.S. is $50,340 or $24.20 per hour in 2021.
There are many businesses in the hospitality and travel industries that will hire CDL drivers for shuttle buses and courtesy buses. If there is a major airport in your region there will be driving jobs-a-plenty. Of course they will be local driving work but there might be significant potential for tips when you give great service.
Shuttle Bus driving such as for a rent-a-car company or a parking company will give you a routine with a fixed daily schedule. Delivery and Parcel drivers work hard but get to go home at the end of every shift. For every job description there are pros and cons but the variety means that there is a professional driving job for almost everyone.
How to Find Unfilled Trucker Positions?
If you have decided to pursue a career in transportation as a driver then that is outstanding! Now What? The first step is to look for a company that will train you or you can head back to school. School options vary significantly from state to state.
Opportunities will likely continue to be good, as there is a growing shortage of drivers. According to American Trucking Association (ATA), the truck driver shortage could grow to over 160,000 by 2030.
According to BLS, about 231,100 openings for heavy and tractor-trailer truck drivers are projected annually. Most of this projected growth is due to recovery from COVID-19.
"Employment of heavy and tractor-trailer truck drivers is projected to grow 6 percent from 2020 to 2030, about as fast as the average for all occupations."

BLS.gov
Coronavirus Impact on the Trucking Industry
According to the top 50 trucking companies report by Journal of Commerce (JOC), only 2 on the list had a drop in revenue in 2021. Revenue growth was in the double digits for 38 trucking firms on the list, and two increased their revenue by triple digits.
The growth was due to demand, mergers and acquisitions, and rate hikes.
Want to know how to get hired at the best firms?
What are the Career Prospects & Salary for Truckers?
A trucker's pay and career prospects depend on a number of factors such as the trucking firm you work for, experience, and type of job. Age requirements run from 21 to 25 years of age minimum at the time of application.
By far the most numerous truck-driving positions are for heavy trucks and tractor-trailer rigs. Tractor-trailer drivers had mean earnings of $50,340 in 2021, according to the BLS, while light truck and delivery drivers had a mean annual earnings of $42,630 per year (2021).
The real money goes to the self-employed contract drivers that haul freight across country. According to Indeed.com, the average base salary for an owner operator driver is just over $249,000 (as at May 2022).The price is that to do it, they stay on the road away from home, living in their cabs for most of the year.
The CDL driver wages in the top twenty companies, as listed below show that the range of salaries extends upward above the average, ranging from just over $44K on the low end to over $100K at the top and a mean annual income of $$65,928.
The one most likely factor that contributes to the high average is that experienced drivers earn more, and they tend to stick with employers where they are contented. The trucking industry has a high turnover rate, and drivers can make more by moving from one job to the next, or staying put when the pay and benefits suit them.
Check out our guide on CDL training
Earning by the Mile and Not the Hour
The trucking industry of the United States has a unique way of paying the workforce by piecework. That means by the mile. Whether you drive OTR or line haul, your pay will be for the distance traveled and not the time clocked.
The convention of paying cents per mile (CPM) is a little confusing because the industry regulates drivers by the time they spend out on the road. Additionally, it is not uncommon for drivers to have to wait for loading and unloading or to get access to facilities. This is one of the biggest factors for truck driver turnover – truckers are severely underpaid for the time they invest in their jobs.
You are going to earn anywhere from $0.28 to $0.60 per mile as an employed driver, depending on many factors such as experience, the company you work for, location, and job specifics. Organizations that subsidize training are likely to start new drivers out at lower pay rates. Experienced drivers earn more.
Here's an example, at Prime Inc., you can expect to earn the following:
Due to the pressure to maintain staffing levels, most truck companies provide additional pay for the time spent waiting to load or for other services, and they attempt to improve the conditions for their drivers with better quality healthcare benefits and permission to take close family members and pets along for the ride.
Experienced drivers find ways to make the best of the business. The most highly paid drivers are self-employed OTR truckers, independents who own or lease their tractor units and pay all of the operational expenses out of pocket. Others increase their earning potential by driving as teams either as employees or contractors.
Check out our comprehensive trucker's salary guide for more details.
What Do You Want From Your Employer?
Different people have varied values and needs, to make the assumption that everyone will respond the same is a mistake. That is why this report relies on information that was crowd sourced through the Glassdoor.com and Indeed.com employment resources website. It is best if the judgment of a company as an employer is left to the people who actually spent time working there.
The list of the most lucrative truck driver employers was used (sourced from JOC.com) because stability and a successful company is factor for job seekers. There may be some little gems in your neighborhood that are a secret, known only to their workers, but here we are trying to get the big picture and the broadest based assessment of the truck driving jobs market.
What you want from your employer also depends at what point you are in your career as a commercial driver. The best companies know that experienced drivers will come to them and so they do not make the same effort to train the new recruits. They do not have to train; they may have a waiting list of qualified drivers waiting to join them.
Finally, the demand for truck drivers means that employers will have to try harder by paying for tuition, student loans and directly training new recruits. This may appear to conflict with the idea that the best corporations don't have to try as hard but the average transportation company is going to have to make their job offers more enticing to get enough applicants to fill their open positions.
The shortage of drivers and the way that companies will be forced to respond is going to be good news for anyone who wants to get into the commercial driving industry. If the trend continues, it will be easier to get in and then, as your experience grows, you will have even better options. It also means that establishments will have to try harder to retain drivers and that will help to improve the workplace for everyone.
How is a Truck Company Rated
This best trucking companies report draws information from The Journal of Commerce, Glassdoor.com and Indeed.com to match the top firms based on annual revenue, along with the sentiment of their employees who have given their opinions of their companies freely and anonymously. It is also relevant as to how many employees gave their opinions.
Factors we considered include the average employee rating on Glassdoor and Indeed. We did not factor in the average truck driver salary in determining the rating, because how employees felt about compensation would have been taken into consideration in the employee sentiment.
However, we still showed the salary data in the list for your information. The average annual salary for drivers at the companies of the survey was $65,928, whereas the average from BLS national statistics for tractor-trailer drivers was $50,340.
The score used to determine job satisfaction levels are ratings out of a possible five based on the information submitted to the job sites by employees of the organizations in question. The numbers of ratings per company factor in with the assumption that more ratings indicate stronger opinions and give a more accurate impression of the workplace.
Factors that are considered here include: average rating; number of ratings; number of employees; location covered; average driver salary.
The source of salaries for drivers are sourced mostly from Glassdoor.com. We also used Indeed.com and other sources when Glassdoor didn't have the data. Although there may not be enough data points to provide an accurate measure of the average, it is worth noting what employees claim to earn. The main point of comparison is the Bureau of Labor Statistics for the job description of tractor-trailer drivers and delivery drivers.
The following are the best transport businesses to be employed at in the U.S.
Top 20 Best Trucking Companies in 2022
1. FedEx
The absolutely-has-to-get-there-overnight parcel delivery service has a reputation for passion in their service and their people recommend FedEx as an employer by a margin of three to one. They also have a gigantic fleet of ground vehicles of all sizes that require drivers for parcel delivery and line haul positions.
Check out our FedEx review.
2. United Parcel Service (UPS)
The brown trucks and uniforms of UPS are a feature of everyday modern life. Employees appreciate this company for its generous pay packages, in exchange for hard work. The career and promotions are there if you can stick around through the super-busy holiday season at the end of the year. Available positions are limited by low turnover so you will have to be patient. The lesson is that happy employees stick around.
If you want a fast moving environment with excellent pay, you might consider working for UPS. They are the largest employer of drivers, and you will get to go home at the end of every day. Mind you, when you do, you will be exhausted at the end of every day because they expect their people to hustle.
As a UPS driver, you will be under pressure constantly to deliver your route on time, deal with traffic, regardless if it is country roads or the busy streets of Santa Monica or Mid-town Manhattan. In return, you will be well paid, perhaps the best in the business.
The way in at this giant of parcel delivery is to find the nearest UPS transit center and apply for a part-time sorting job. Once you are in, you can work your way up to deliveries. You will need to have your CDL and previous driving experience as consideration for the preferred driving jobs.
3. Landstar System
Landstar's logistical support provides the same safety and reliability for drivers it does for customers. The company has been around since 1988, but the people there aren't set in their ways. They're on the cutting edge of logistics, constantly testing and developing new technology.
Drivers get the benefit of that approach. For example, their innovative electronic payment system means you'll always be paid within two days of submitting an invoice. Landstar System is headquartered in Jacksonville, Florida, and operates throughout the United States – and to a lesser extent in Mexico, Canada, and other countries.
4. Old Dominion Freight Line
This hard working company rewards its employees well, and the drivers appreciate it. Old Dominion specializes in less-than-load cargo shipping. Having been in the business for eighty years, they know a thing or two about logistics, supply chain and expedited shipping. They serve the entire country from their base in Thomasville, North Carolina through a network of 200 distribution centers.
5. J. B. Hunt
J. B. Hunt has been in business since 1961. They specialize in semi-trailer trucks, providing shipping to the US, Canada, and Mexico. They have the largest fleet of 53-foot trucks in the region. Primarily, their business is in intermodal drayage, and they partner with several large rail providers. That makes them a good company to drive for if home time is a priority. They provide competitive pay and benefits and make transferring within the company as easy and painless as possible.
6. ArcBest
Good pay goes a long way, and so do great company cultures and values. This nationwide hauler moves less-than-truckload cargoes of packages and commodities across the United States, Canada, and Puerto Rico.
7. Yellow Corp.
8. XPO Logistics
There's a good chance XPO Logistics is hiring in your area. This fast-growing supplier contracts with over 50,000 companies, large and small, so you'll never have trouble getting enough hours. XPO invests in its workforce, keeping hours and benefits competitive.
It also invests in its fleet and its warehouse technology, keeping everything cutting-edge and up-to-date. But beware of fraudsters posing as XPO recruiters. If you're contacted by a purported XPO recruiter who asks for personal information, like your bank account number, driver's license number, or SSN.
9. TFI International
TFI International isn't the best-known logistics company in the US, but it's more widely recognized north of the border. This Montreal-based company is best known for package and courier services; it's the owner of Loomis Express. However, it also has divisions for truckload, less-than-truckload, and container transport. Its US operations are expanding, making it an attractive choice for American drivers looking to grow their careers.
10. Prime Inc.
This company has one of the largest fleets of flatbeds, refrigerator and tanker trucks on the roads of the nation. Prime Incorporated is all about long distance driving OTR, so it is a company for present and future road warriors who thrive away from home for long periods. Prime offers paid CDL driver training, and that adds an obligation to stay with the company or pay a penalty for the time cut short.
11. Schneider National
Schneider National was founded in 1935 in Green Bay, Wisconsin. They're less specialized than some of the other companies on this list. Local, regional, or over-the-road — van truckload or tanker — port logistics, dedicated, or intermodal, Schneider hires for all kinds of jobs. They boast that two-thirds of all Fortune 500 companies use their shipping solutions.
Schneider is proud of their driver retention rate; they hire both experienced and inexperienced drivers and give both the resources they need to grow their careers. They're also proud of their cutting-edge fleet, which is designed to give OTR truckers a painless, comfortable ride.
12. Knight-Swift Transportation
Knight-Swift, which merged in 2017, prides itself on its one-on-one approach to contracting with drivers. You'll work with a manager who will take the time to get to know you and select jobs that work for you. The jobs are mostly local and regional, so no matter what your lifestyle is like, you'll have plenty of home time. They specialize in dry van, refrigerated, and flatbed transport. Employees will get benefits as any large corporation would provide, but with the feel of working for a small entity.
13. Estes Express Lines
Estes Express has been around the block a few times — they were founded in 1931. They are now the country's largest private provider of less-than-truckload shipping. Just because the company has been around for a few years doesn't mean the fleet or equipment has, though. In fact, 65 percent of trucks are less than four years old.
A family-owned company out of Virginia, Estes provides excellent pay and benefits, including a matching 401(k), paid vacation and sick leave, and a job referral bonus program. They pride themselves on their safety record, and on the number of drivers who stay with the company for up to 25 years.
14. Werner Enterprises
One of the country's largest shipping concerns was founded in 1956 by C.L. Werner, who was, at the time, a nineteen-year-old with one truck. Based in Topeka, Kansas, Werner is mainly a van shipping concern, but that's not all there is to them. They have jobs driving temperature-controlled units, dedicated units, and flatbeds.
This ensures that they have jobs to fit every lifestyle. However, they are particularly proud of the amount of home time their drivers enjoy, boasting that 70 percent of drivers are home nightly or weekly. They are also particularly proud of their safety program, which includes high-tech simulation training and computer-based resources.
15. Evans Network
The Evans transportation company has been in the business since 1939. Evans offer transportation services in the port drayage/intermodal, van truckload, flatbed, and freight brokerage markets, with over 700 service locations across the country.
16. Hub Group
As their name makes clear, Hub Group specializes in intermodal shipping. They started out in Chicago in 1954, focusing on drayage between rail and water shipping hubs. That's still their focus, but they're no longer confined to the Windy City. In fact, they have thirty locations across the country, so it's worth checking whether they're hiring in your area. Hub Group prides itself on its focus on high-tech, eco-friendly transport solutions.
17. R+L Logistics
R+L Logistics is proud of being family-owned since itsr founding in 1965, and of being set up with drivers in mind. Their benefits are some of the best in the industry, and that's not just because of the standard inclusions like 401(k)s, life insurance, and healthcare. It's touches like paid vacation, incentive policies, and free stays at company-owned resorts. They also advertise a friendly atmosphere in the workplace, including an open-door policy for suggestions and complaints. They offer help and support to help you grow in your career.
18. Saia Logistics
Saia Logistics started out in Houma, Louisiana, in 1924. Like other old-established companies, one of its advantages for job seekers is its size. There are 168 Saia terminals in the country, so there's a fair chance there's one in your area that's hiring. They specialize in OTR trucking, although they also hire local city drivers. However, the main way that the managers at Saia set themselves apart, from the driver's point of view, is their benefits.
They provide matching 401(k)s, paid vacations and holidays, and even a health insurance plan that's free to ten-year veteran drivers. And it's not only the benefits package that's attractive. Saia also offers paid training programs and allows linehaul drivers two consecutive days off per week. It's a system set up with people in mind.
19. NFI Industries
NFI is a family owned third-party logistics business since 1932. Some of the services NFI offer are dedicated transportation, intermodal, warehousing, transportation management, brokerage, global, and real estate services.
The company offers sign-on bonus, health, dental, vision, 401(k) with match, and quarterly and annual safety bonus.
20. U.S. Express
The average age of a truck in the U.S. Express high-tech fleet is 18 months. U.S. Express's focus is on hiring inexperienced drivers and giving them the training they need. They will even pay your way through CDL school if you join their job placement program, called TDI or the Truck Driver Institute.
They'll pay you for your orientation, as well. Starting your career with U.S. Express can be rewarding because they offer excellent opportunities for upward mobility. A new driver can earn as many as four raises per year.
Conclusion
We hope that this comprehensive report on the best trucking employers can steer you in the right direction as far as finding a trucking job.
There are plenty of options available for everyone who wishes to become a commercial driver and who can meet the medical requirements. Assuming you are fit, it is just a matter of where there is a will there is a way. The complete novice can seek training and then apply, or apply directly to one of the many companies that will train you for your CDL.
Once you have experience in the industry the shortage of drivers will ensure that you will be able to find work. The types of work are varied and there is probably a job description that suits every CDL holder. Ultimately you can expand your career prospects by entering management or becoming a self-employed contractor. The horizons are as broad as the open road that stretches out before you.
Which trucking companies do you wish to work for? Share in the comments.
Geoff is a freelance writer with 20+ years of experience in driving trucks and buses, dispatching, supervising, and training commercial driving teams. His expertise is writing topics on the transportation and trucking industry, and information technology trends.