When You Drive a Dump Truck You Keep Your Head on a Swivel 
Driving a dump truck is a real commercial trucking career option. You might be looking for a first-time trucking job or an experienced trucker seeking an alternative to over-the-road (OTR) jobs that take you away from home.
Dump truck driving could be a way in for jobs with heavy equipment, a local construction company, or mineral extraction operation. It's something you can do, either as a new driver or an experienced trucker. If you're interested in becoming a dump truck driver, knowing about the facts, especially what happens on the job, is important. It helps to have a good sense of situational awareness, you keep your head on a swivel, as they say.
Dump Truck Drivers Stay Alert on the Worksite
The expression "head on a swivel" is widespread in military circles. It means maintain good situational awareness and pay attention to everything going on around you. 
Dump truck jobs are a little different from driving OTR, and that can be a good thing. It can be an adventure that keeps you close to home. However, when you get off the highway and onto a construction site, you have to keep your head on a swivel.
Working around construction or mining sites means being extra vigilant for unexpected things going on around you. It means keep continuously looking to the left and right, and in the mirror for potential hazards. But you should do that for any commercial driving job, right?
A Different Take on Commercial Truck Driving
If you're an experienced driver, with a Class-A or Class-B CDL, all you have to do is apply. It can also be a way to earn a CDL if you're starting from scratch.
If you enjoy trucking or working with heavy machinery, dump truck driving's an excellent niche career within professional trucking. Other things make dump truck driving a desirable alternative job position too.
There are dump truck driving jobs in all parts of the country, so there's probably jobs going in your region. Companies pay by the hour, rather than by the mile. You get to clock out and go home at night, every night.
It's true that heavy equipment such as diggers, cranes, and excavators on-site might be shifting much heavier loads, but they can't transfer material out on the street between sites. As a dump truck driver, you get the best of both worlds. 
Off-Road Trucking with Bulk Cargoes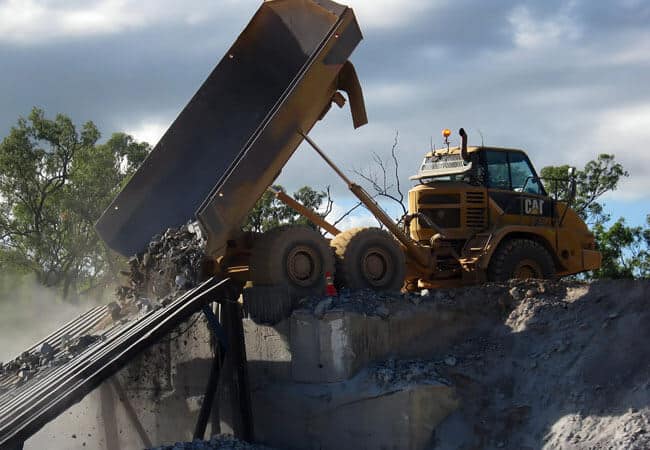 Operating any sizeable commercial vehicle demands a safety mindset. If you drive a truck out on the open road, loaded with 20 to 60 thousand pounds of cargo, you have to be a careful, responsible driver. Driving a dump truck takes that responsibility and, as likely as not, adds the extra burden of hauling your load off-road at the start and end of the trip.
Chaotic and Constantly Changing Worksites
As a dump truck driver, you have to do all of the things any trucker does, but you are also working around machines in motion. You'll encounter heavy equipment at mining sites, construction sites, or some other area where bulk materials get moved from point A to point B. The part in the middle, where you drive on the road, is mostly like every other trucking job.
Worksites can be highly chaotic and changeable. People and vehicles pop up when or where you least expect. But it's all part of the excitement – fast-moving situations spice up dull daily work routines.
On-site, you encounter heavy equipment, people on foot, and rough terrain. You may also find that you can't take for granted the conditions you left behind on the last trip. Earthmoving changes the site, by definition. A demolition site can be even more hazardous, with surprises like ruble and twisted metal on the access road.
In spite of all that, there's a repetitive aspect to dump driving jobs. While the plan may change week-by-week or by the project. However, on a daily basis, you're probably traveling the same short route several times a day. The route's likely to take you across city streets or back-country roads, at least part of the way. It can get boring, and your attention may slip. That's the time to catch yourself and re-focus. 
Tractor Trailer Dump Trucks and Trucks with Trailers
With a Class-A CDL and a Doubles Endorsement on your dump truck driving license, you can move the biggest loads in any road-legal combination. Companies like the efficiency they get from dumper trailers and doubles, as opposed to straight dump trucks. The big rig dumpers are popular with companies that have to dig out deep foundations and basement parking garages.
A forty-story office block or condominium project might go six or more stories down too. All of that dirt and rock has to go somewhere, there's a huge demand for drivers who can move it. Tractor-trailer dump trucks can haul more dirt in each load, and one truck hauling more dirt means better economy for contractors, at least on paper.
Dumper trailers take more experience to handle on a site. You have to watch for soft, uneven ground or mud that gives way, pulling the trailer off to the side. An inexperienced driver jack-knifing their rig could cause delays, accidents, and most definitely, angry site-bosses.
Off the Road and Into the Mud
Weather adds a roll of the dice to the dump truck driver's workday as well. Mud's a fact of life in construction. Winter in the colder season's when you benefit from having experience. Rain, snow and ice, if the project keeps going, you keep driving.
The risk of accidents with heavy equipment is never a joke. Bad visibility and poor road conditions are bad enough, going off-road and on-site makes hazards worse. The same concern applies when you operate the dumper to tip out your load.
For every action there's an equal and opposite reaction that can cause the truck to recoil or jolt as the weight comes off. However, if you stay aware of what's going on around you and keep your distance from machinery in operation, you'll be good to go.
Summary
Like other trucking jobs, dump truck positions are going unfilled. If you already have a CDL, you can have your pick of jobs in most regions. Driving a big-rig OTR is a great lifestyle if it suits you. Dump truck driving is one of the best if you love trucks, but you want (or need) the nine-to-five, and staying close to home.
Geoff is a freelance writer with 20+ years of experience driving trucks and buses, dispatching, supervising, and training commercial driving teams. His expertise is writing topics on the transportation and trucking industry, and information technology trends.