If you want to become a truck driver and you're asking yourself  if there are CDL schools or training nearby, then you've come to the right place.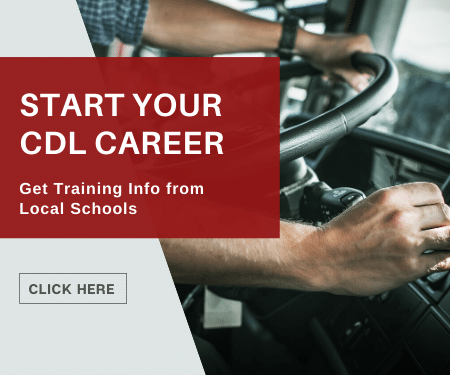 Our list of truck driving schools is comprehensive, and we've categorized them by state in the U.S. Just click on the state you live and it will list the schools in that area.
>>Local trucking schools by state
Driving trucks for a living is a good career choice because in the trucking industry there is a shortage of truck drivers, and companies are always looking to hire, especially those with their CDL.
The trucking industry in the U.S. employed 3.4 million truck drivers in 2006, however, the majority of these drivers have retired or will retire in the near future. As a result it is estimated that there will be a shortage of approximately 20,000 drivers.
Now, more than ever, is a great time to forge your way into a trucking career. There are required steps in order for you to become a trucker, and one of them is to select the right school to get training. Getting your CDL and appropriate endorsements are some of the key factors in securing a well paid job in the industry.
Most reputable trucking companies almost always select candidates with a CDL when they're hiring, and when you have specialized endorsements, you can enter into fields that typically pay more.
How to Choose the Right Trucking School?
The most obvious is to select a CDL school near you, but once you have a list in mind, you'll need to consider tuition cost, length of training, school reputation, etc.
The cost of attaining CDL training and license, will run you anywhere from $3,000 to $10,000. This will include classroom training, getting personal coaching, driving trucks, and getting the appropriate instruction for the written and driving exam. The length of most training range anywhere from 2 to 6 weeks, depending on full or part time.
Here's what you need to look for when selecting the right CDL school in your area:
Schools rated by the BBB and/or other business rating services
Schools that provide a guarantee that you pass the exam, and will offer additional training if you fail the first time
Schools that offer all-inclusive training in class and on the road, as well as training for the exam
Training is provided by licensed training and driving instructors who are experienced and have been in the industry for awhile
Schools that have online reviews, typically from previous students – this will give you an idea if the school is reputable
Schools that have a professional presence – website, contact information, and information around the training they offer
Free CDL training programs? Don't even think about it. More than likely, these are scams. If you come across these offers, stay clear.
Geoff is a freelance writer with 20+ years of experience in driving trucks and buses, dispatching, supervising, and training commercial driving teams. His expertise is writing topics on the transportation and trucking industry, and information technology trends.