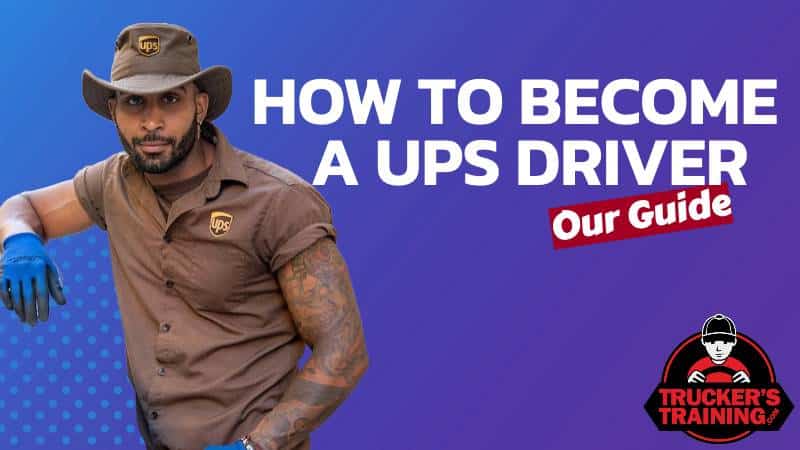 Ever wondered what it takes to become one of those United Parcel Service (UPS) drivers zipping around in their big brown trucks? Turns out, it can be a pretty rewarding gig. As a UPS driver you can make over $170,000 a year with amazing benefits. Not bad for a job that doesn't require a college degree. If you like driving trucks, working with people, and want a stable career with lots of opportunities to advance, becoming a UPS driver may be perfect for you.
The job isn't easy, of course—you'll be on your feet a lot, lifting heavy packages, and dealing with all kinds of weather. But for the right person, the rewards of being a UPS driver make it worth it. The key is getting started. If you've got a clean driving record, physical ability, and a friendly attitude, you're already ahead of the game.
Keep reading to find out what it takes to land a job as a UPS driver and start making decent earnings each year delivering goods and packages all over the country.
UPS Driver Requirements
UPS Package Delivery Driver Requirements
Delivery drivers are those who operate the ubiquitous brown trucks to deliver packages to UPS customers. UPS delivery drivers do a lot of walking, lifting, and maneuvering packages, so being physically fit and able-bodied is important, as well as:
Must be able to lift up to 70 lbs
Have a valid driver's license (no CDL required)
Pass the DOT physical
Have great driving skills
Possess excellent customer service skills
UPS Tractor Trailer Driver Requirements
Tractor trailer drivers or feeder drivers operate tractor trailer trucks between UPS locations or they drive to customers along a predefined route before returning to their base. UPS tractor trailer driver requirements include:
The ability to drive days, nights, and/or weekends
Have a valid CDL license, and depending on location have doubles/triples endorsement
Pass the DOT physical
Must be reliable, responsible and enjoy driving trucks for a living
While a college degree isn't mandatory, you'll need a high school diploma. You'll also have to go through UPS training to learn proper delivery methods, safety standards, and customer service. Previous experience driving similar vehicles is helpful.
How Much Do UPS Drivers Make?
As a UPS driver, you can make a very comfortable living. UPS CEO Carol Tome stated during an earnings conference that UPS drivers can expect to earn a total of approximately $170,000 annually in pay and benefits by the end of their five-year Teamsters Union agreement.
First, let's have a look at the salaries of the company's CDL drivers and package delivery drivers.
UPS Truck Driver Salary
On the UPS job board for tractor trailer drivers or CDL truck drivers, the posted hourly wage is $23 – $32 per hour depending on location, which translates to $47,840 to $66,560 per year based on a 40 hour week. A seasoned truck driver with similar experience can likely negotiate a higher salary. According to Indeed.com, some UPS truck drivers are earning close to $49 per hour, or just shy of $102,000 per year.
UPS Delivery Driver Salary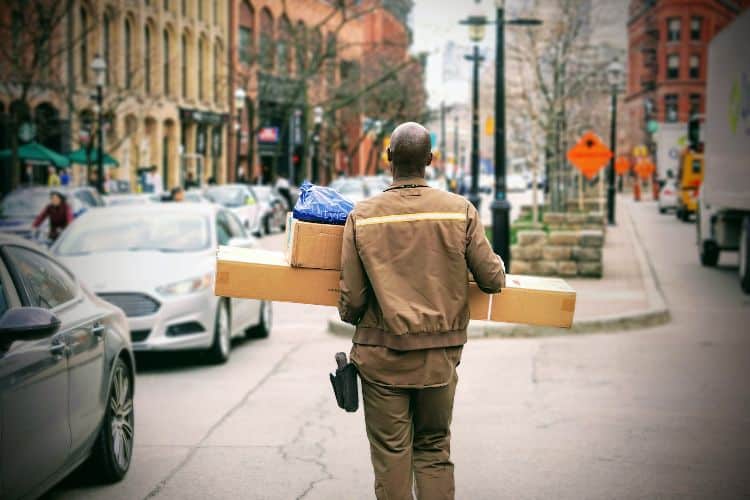 For package delivery drivers, the posted hourly wage is $23 – $28 per hour or between $47,840 to $58,240 annually, depending on location. After only four years as a full-time package car driver, you can make on average, $42 per hour, or just over $87,000 per year. With the new contract, Teamsters Union says the deal would improve the average top rate for package delivery drivers to $49 per hour, or $101,920 annually. 
Benefits of UPS Drivers
Aside from competitive pay, both UPS package delivery drivers and truck drivers get some of the best medical insurance and pension benefits in the country:
401(k) + defined benefit pension plan – UPS contribute more than $23,000 a year to each full time employee's pension plan.
Medical, dental and vision, $0 healthcare premiums
Paid vacation can range from one week of vacation for a year of service up to 7 weeks of vacation for 30 years of service.
Tuition assistance
Moreover, there are driver benefits that cannot be quantified, such as drivers can count on operating reliable and well-maintained trucks. And tractor trailer drivers don't need to worry about loading or unloading delivery.
How to Become a UPS Driver
To become a UPS driver making $170K or more per year, you need to meet some basic requirements and follow the proper steps. First, you must be at least 21 years old, have a clean driving record, can legally work in the US, and be able to lift up to 70 pounds. You'll also need a high school diploma or equivalent. Once you meet the requirements, you can apply to become a UPS driver.
Applying
Regularly check UPS's website for job listings in your area. As UPS drivers retire or transfer, new positions open up. Getting in early and applying as soon as you see an opening maximizes your chances.
When a suitable job is posted, submit an application right away. Here are the steps:
Visit UPS's careers website and search for delivery driver jobs in your area. Apply for any openings.
If selected, you'll interview for the position. Be prepared to provide references and consent to a background check and drug test.
If offered a job, go through UPS's on-the-job training program.
There may be a 30-day probationary period. This part is crucial as it determines who stays and who goes.
DOT Physical Exam
You'll also need to pass a DOT physical exam. This comprehensive medical exam checks that you meet the minimum qualifications to operate a commercial motor vehicle (CMV) like a UPS delivery truck.
The DOT physical typically includes:
Vision screening to ensure you have at least 20/40 vision in each eye.
Hearing test to make sure you can hear a forced whisper in each ear. Hearing aids are permitted if they allow you to meet the standard.
Blood pressure and pulse check.
Urine test to screen for any underlying health conditions like diabetes or kidney disease.
Basic physical maneuvers to confirm you have adequate strength, flexibility, and balance to perform CMV driving tasks.
As long as you are in generally good health with no uncontrolled medical conditions, corrective lenses for vision, and meet the basic qualifications, you have an excellent chance of passing.
Training Process
You'll spend several weeks in a classroom learning about UPS's delivery methods, navigation systems, and safety procedures. Pay close attention, as you'll be tested on this information.
After classroom training, you'll embark on several days of on-the-road training with an experienced UPS driver. This hands-on training will teach you UPS's delivery methods in real-time as you travel your assigned route. Your trainer will evaluate your driving skills and customer service to ensure you're ready to drive solo.
Even after you've completed initial training, your education isn't over. UPS requires all drivers to complete regular safety, compliance, and skills training to keep their knowledge and abilities up to date.
Pass the 30-Day Probation Period
Once you've completed your training and orientation, the real work begins—your 30-day probationary period. During this time, UPS will evaluate your performance to determine if you're the right fit for the job. To pass this trial run and move on to becoming a full-time UPS driver, here are some tips:
Focus on safety. Follow all procedures and protocols to ensure safe delivery and pickup of packages. Obey traffic laws, wear your seatbelt, and be cautious of hazards. UPS values safety above all else.
Provide great customer service. Be friendly and courteous to everyone you encounter on your route.
Meet delivery targets. Aim to pick up and deliver all assigned packages on schedule.
Ask questions. Don't hesitate to ask your supervisor or trainer for clarification on anything you're unsure about. It's better to ask questions during your probation than make mistakes that could put your new role at risk.
Maintain a clean record. Get to work on time, follow the dress code, and represent UPS professionally. Any policy violations or performance issues could prevent you from passing your probation.
By focusing on safety, service, efficiency, communication, and professionalism, you'll demonstrate to UPS that you have what it takes to handle this rewarding long-term career.
Conclusion
You now have all the information you need to become a UPS driver and earn over $170,000 a year. It may not be the easiest career path, but with hard work and determination, you can land this high-paying job. Follow the steps, prepare for the training, pass your tests, and start your new career. Before you know it, you'll be delivering packages, getting daily exercise, and earning a salary that provides financial freedom and stability for you and your family.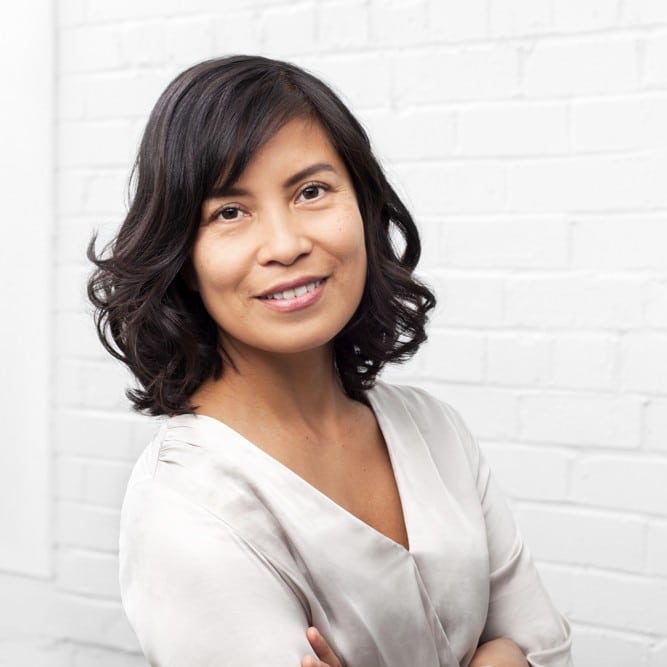 Marina was in corporate communications for over 15 years before becoming a freelance writer for TruckersTraining.com. She's been writing about transportation, and the supply chain and trucking industry for over five years. Her father was in the trucking and logging business which exposed her to the industry. Her passions include travel, nature and entrepreneurship.