For many years, the trucking industry has been woefully short of drivers. The recent pandemic only highlighted the importance of trucking to the national economy and the reliance of communities on trucking to supply their daily needs. 
Recent changes in pay, conditions, qualifications, and recruitment drives have begun to make trucking more appealing as a serious career choice. Selecting the best driving school is the starting point for any recruit looking for a good start in the industry. Here are some of the points to consider before making the selection.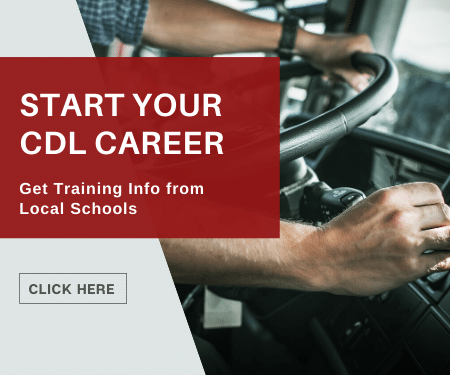 Sort Out Your Aims
All truck drivers are required to gain their Commercial Drivers' Licence (CDL) so attending a training school is essential. If you are looking for specific types of trucking it is wise to make sure that the school is offering training courses for that niche.
Basic Training Requirements
Before applying to train as a trucker, there are several essential requirements to be met:
Applicants must be US citizens
There is a minimum age of 21 or 23 years depending on the program
A clean criminal record
A drugs test must prove negative
No bans for driving infringements
Different Types of Trucking Schools
There are two sorts of training schools: private or paid. There are pros and cons to both types of school which need to be considered early on.
Private Truck Driver Training
The private option gives applicants a chance to choose where and when they work and who they want to work for after gaining their CDL. The initial up-front outlay for this type of training is high and applicants may want to consider ways of financing their courses.
Paid Truck Driver Training
Paid CDL training schools are often owned by, or affiliated with, big trucking companies. They will pay for all the training and issue the certification for the recruit. Importantly, there will almost certainly be a placement after gaining the CDL, something not always offered at private schools. 
The drawbacks are contractual obligations requiring some form of reimbursement for the training and company loyalty clauses. New drivers may not have the freedom to work elsewhere for some time and subsequently may have to lose out on a better position elsewhere. A portion of the training costs could be deducted from the wage packet at least in the first year of work. 
Alternatively, the wages may be low during that time. It has to be said that pay and conditions have risen noticeably in recent years. With the increasing demand for more staff, they are likely to continue rising and become very attractive right from the start.
Licensing and Accreditation
3 Levels of Accreditation
Choosing the private school option, you will need to check that it is licensed by the State Regulating Authority. There are 3 levels – Licensed, Certified, and Accredited – from basic to inspected/sanctioned advanced tuition. Licensed schools will have satisfied the authorities that they have the basic state requirements to train students for the CDL. 
Certified schools are already licensed and inspected by a third-party company for additional training standards. Graduates from these schools must pass US Department of Transportation standards set for the trucking industry. Accredited schools must meet those standards of the accrediting authority. Employers will be most likely to offer positions to those trained at licensed and accredited institutions.
Some of these trucking schools are allied to professional driver training associations whose aim is to improve standards of safety and competence within the industry. The 3 most notable are:
Commercial Vehicle Training Association (CVTA),
Professional Truck Driver Institute (PTDI),
National Association of Publicly Funded Truck Driving Schools (NAPFTDS).
These schools are likely to be the ones most able to suggest placements after certification, another important consideration.
Research the Schools
One important factor is location. Most applicants will want to select a school close to home or in a familiar area but that may not always be the best choice. Researching selections may mean choosing a school in a different area is worth considering. There will usually be a lot of information on the school's website to give you a guideline of the standards of training. 
There should also be details of the curriculum. More useful though, may be the comments offered by former and current trainees. Requesting an informal visit could also be helpful and give an opportunity to ask present trainees about the school. 
Use the occasion to see what kind of trucks – box truck (similar to delivery trucks), semi trucks, etc. – and equipment the school is using, a good school will be only too happy to show you. Talk to the school recruiter, ask questions and compare answers with the current trainees' opinions. 
Consider making a checklist of important factors:
What is the reputation of the school like?
How long have they been operating?
What facilities are there? Are they up to date?
What training courses are available? What length are they?
What are the costs and is finance or sponsorship available?
Will the costs be reimbursed? (company-sponsored training)
What qualifications and experience do the trainers have?
Is accommodation offered?
Are meals provided?
Are placements offered on completion of training?
What testimonials of success can they give?
Funding Possibilities
There are quite a number of possibilities to help fund truck driving courses. The costs can be between $4,000 and $10,000 to acquire certification but trucking is a high-demand career and financial help is often available. This includes unemployment assistance schemes and funding for students and veterans. There are also various State and Federal funding programs that you can look into – the internet here again holds plenty of information for each district. 
Some students may be eligible for a FAFSA Pell Student Aid Grant but not all schools are able to accept this. Special grants and scholarships are available in some cases to military personnel and via 'women in trucking' organizations. Community College CDL programs take far longer but give very comprehensive training. They are also much cheaper and allow the graduates freedom to choose which jobs to apply for although some placements may be offered. Make a list of prospective schools and compare costs.
Paid Training Options
These may mean sponsorship or reimbursement schemes and are good choices for those on limited incomes or with family commitments. If selecting this option, there are some questions that should be asked before deciding to train this way. The location may be some distance and you will need to know if traveling costs are included or if accommodation is provided for the duration. 
Meals may or may not be included and consider if these and the travel or accommodation costs will need to be paid back. What proportion, if any, of the costs of training and attaining the CDL, will need to be returned to the company? You may also want to know if that be achieved through monthly salary deductions or a low first year pay scale. 
Some companies will expect trainees to pay all the fees but will offer reimbursements and the terms need to be calculated, including the extras like meals and travel. As the need for truck drivers grows year by year, some companies may offer full and free training with a certain placement on completion. Loyalty obligation will still stand to ensure the training benefits the provider.
Training Courses: What You Need to Know
First of all, it is necessary to decide what class of vehicle you are aiming to drive. Maybe you want to get a basic license and consider your options at a later stage. Perhaps you are an experienced trucker needing to upgrade your qualifications. When you have decided what you need then check with the driving schools to make sure they are running courses to achieve your particular accreditation. 
CDL classification is graded A, B, and C. The A and B categories refer to weight limits of trucks, loads, and trailers with A being the highest. A Class also allows drivers the most range of vehicles a trucker can drive and gives plenty of opportunities when job-seeking. However, C Class is a specialized category and may also be helpful in job-seeking as this is a smaller niche classification. These are the vehicles truckers may drive:
Class A: Tractor-trailers and flatbeds. Truck and trailer combinations. Livestock. Tractor-trailer buses. Tanker vehicles (this is a very sought-after category for truckers, often achieving higher rates of pay). 
Class B: This is a class useful for those applicants intending to drive buses or other public service vehicles. C CDL allows drivers of large buses (including intercity and tourist buses) school buses and segmented buses. Also – box trucks for furniture and light goods deliveries, general deliveries, and couriers. Dump trucks with small trailers are covered in C class.
Class C: Small HAZMAT (hazardous materials) vehicles. Passenger vans carrying a specific number of people. Small trucks towing a trailer.
Weights for Class A and B allow drivers to operate trucks with a combined weight of 26,001 lbs or more but Class A allows additional gross towing weighs above 10,000 lbs. 
Length of Courses
Basic courses are usually covered in about 4 weeks to achieve a Commercial Drivers' License. Additional training may be necessary for higher gradings and sometimes practical and written tests may be required. It is considered though, that 160 hours of training is necessary and up to 200 hours.
If the school course is less than the minimum, trainees may struggle to achieve their license, and over the maximum will be wasting time before getting on the road. Some schools may offer a flexible schedule to fit in with family and other commitments.
Content of Training Courses
The ideal curriculum will include practical application of skills by spending some time with experienced drivers in the truck as well as classroom/computer training. The best schools will include up to 27 hours of BTW ('behind the wheel') training and observation time. 
Schools offering this type of comprehensive training are some of the best but possibly more expensive and not essential for everyone. The curriculum should also show lessons on the current regulations with a particular accent on safety standards. School facilities may vary with many now offering high-tech computers and even virtual reality training. 
A point often overlooked is training on manual as well as automatic transmission trucks. It is wrong to assume that all vehicles are auto, there are still plenty that requires experience of driving manual vehicles. The training course should cover that.
Check Out the Teaching Staff
Recent changes in regulations to improve standards have also required trainers to demonstrate that they have the correct skills and knowledge to teach. Checking out the qualifications and experience of the trainers is important in deciding which school to choose. Former truck drivers with years of experience on the road are likely to be some of the best teachers. 
It is wise though to make sure they have reached the new certifications for CDL teacher-trainers. The ratio of student to teacher is another factor. Views vary a little on this but a 1-1 is not always best as the questions and feedback of other trainees can be valuable. Conversely, too many in a class can obscure the individual needs of trainees, so a 1-3 or 1-4 ratio is an optimum range. 
Ask About the Licensing Test
Attaining a CDL is an important step in a new career so it's important to find out if a failed test can be repeated. Ask also about the number of times the test can be taken and the cost which needs to be factored into the school choice.
Takeaway
The need for qualified truckers has risen steeply every year and is expected to do so for some time to come. The job opportunities are there and waiting, a new career with good rates of pay and improved safety conditions and personal welfare guarantees is possible. This situation has created many new training schools to meet the demand. Applicants have many choices and some thorough research of the above points should help in making the right school selection.
Geoff is a freelance writer with 20+ years of experience driving trucks and buses, dispatching, supervising, and training commercial driving teams. His expertise is writing topics on the transportation and trucking industry, and information technology trends.