In 1999, Benefon (now called Twig Com) released the first commercially-available GPS, in the form of a safety phone (the Benefon Esc). It was a huge step forward from 1957 when U.S. scientists made note of Sputnik's position by measuring the frequency of its radio signals and gave them the first, basic idea of the Global Positioning System. Since the Benefon Esc (originally a predominantly European product), we've seen the technology improve greatly, as has its popularity.
Garmin Truck GPS
Today, the sheer number of GPS manufacturers and their available models can make for an overwhelming choice. But if there's one company that stands above the rest, then Garmin would be that company. With a 7-inch glass display, enhanced speakers, and the Spoken Garmin Directions feature, as a truck driver, you're able to see, hear, and navigate so much better than ever before thanks to the Garmin dezl 770LMTHD.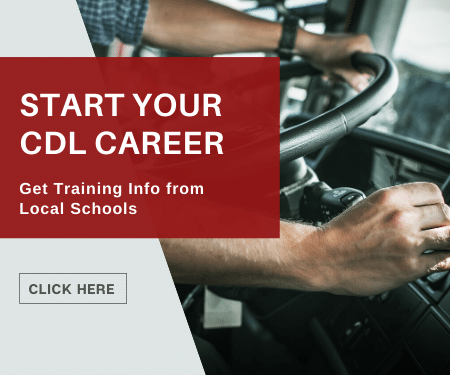 What We Like: Quality Navigation, Routing, and Customization
The Garmin dezl 770LMTHD 7-inch GPS Navigator is a trucker's best friend on the road. Designed with truckers in mind, Garmin has included important truck-related information on all of their maps.
This includes sharp curves, bridge heights, and weight restrictions, plus more. All you need to do is add your vehicle's height, weight, length, and width – you can even specify whether you have hazardous materials. The dezl 770LMTHD takes it from there, planning a truck-friendly route suitable for your profile. 
North American Maps
Detailed North American maps are included, and you can download updated versions for as long as your Garmin is operational, absolutely free of charge.
PhotoReal Junction
PhotoReal Junction shows you what your exit lane looks like in real life, so you never miss it, and Active Lane Guidance helps you stay on route with both visual and audio prompts. Stay up to date with the upcoming road conditions, including truck specific speed restrictions, high wind areas, and steep grades. 
Trip Planner
Trip Planner helps you select multiple stops when planning your route in advance, or adjusting it on the road. If there's a road or particular cities that you prefer (or want to include), interact with the 7-inch touchscreen display and let Easy Route Shaping change the prescribed route. To help you plan each day's ride, the dezl 770LMTHD will keep you posted on sunrise and sunset times. 
Garmin Traffic offers free traffic avoidance, so you can be sure you're always following the fastest route available. The dezl 770LMTHD will also provide you with state and country border notifications, automatically updated according to time zone changes, and even give you an estimate of your arrival time.
Additional Features
Point of Interest
Chances are, you're not always going to be following a familiar route. When on a new stretch of road, you still want to select relevant POI as your stops, the dezl 770LMTHD identifies truck stops, lodging, parking, and weigh stations relevant to you. You can even filter the suggested stops according to your preferred amenities, such as truck washing services and showers. Many trucking companies have a preferred brand name for parts, which is why Garmin allows you to filter your stops accordingly. 
Truck & Trailer Services Directory
Garmin has also included their Truck and Trailer Services directory. This feature is designed to help truckers get any problems sorted out ASAP when things go wrong on the road, by listing more than 30,000 truck repair and service provider in the US and Canada. They've taken special care to include after-hours road service providers, knowing that many truckers drive long hours. If something goes wrong in the middle of the night, you don't want to wait for business hours before getting it seen to, after all. 
Service History Log
To help you keep track of every detail of your service record, the dezl 770LMTHD also provides a Service History Log. Record service stops, the type of service provided, tire changes, tire pressure and mileage, oil changes, and more. And to help you keep your hands on the wheel while on the road, you can also use voice commands to interact with your dezl 770LMTHD.
Modes and Connectivity
If you have to switch between loads on different trips, don't worry: the dezl 770LMTHD features Garmin's Simple Profile feature. This function gives you the freedom to switch between trailer sizes, all with the simple touch of a button. While the dezl 770LMTHD is designed with truckers in mind, the Simple Profile feature also allows you to switch to car mode at any time, making it a viable model for truckers with a personal car. 
You can also link your Garmin with your Android or iOS smartphone using the free Smartphone Link app, allowing you to connect to your mobile data. In this way, the dezl 770LMTHD is able to connect to Garmin Live Services for premium content, such as live weather updates and traffic camera images. For making and taking calls safely on the road, you can also connect via Bluetooth.
Customer Rating
With over 400 customer reviews on Amazon, this GPS is averaging almost a 4 out of 5 stars. Some comments that caught our attention:
For truckers this GPS is worth its weight in GOLD! Simply plug your tractor trailer's dimensions, plug in your address and away you go. I have more than 17,000 miles logged since June '17 with this GPS and have never been put in a situation where my vehicle height was an issue.
Pay no attention to bad reviews on this gps. This thing is dead on accurate. Crystal clear screen. Only negative thing I've found is not enough low bridge warning. I haul oversized loads. So to test it out I set vehicle height at 14'8″…. I knew there was a 14'6″ overpass on my route. Gps flashed low bridge warning about 2 miles ahead. But problem is by then I'd already passed the last exit before low bridge. So had I really been 14'8″ tall I'd have been S..T out of luck… but other than that it's best gps I've owned period….
>To Learn More About the Garmin dezl 770LMTHD, Click Here (opens in a new tab)">>>To Learn More About the Garmin dezl 770LMTHD, Click Here
Do you have this GPS? Let us know what your experience is like in the comments.