The right sleeper semi-truck tractor unit is one of the things that make OTR truck driving a pleasure. If you have the comforts behind the wheel, the road can be your home. It's something that matters if you spend more time on the road than at home.
As you become a more experienced trucker, you grow to love the lifestyle takes. Perhaps you started with a big transportation company. Often, they fund your schooling while you earn a Commercial Driver's License. You work off the tuition fees and move up to an OTR position as an employee driver and grow into the trucker lifestyle. You buy your first truck and wear it out. Now it's time to get the sleeper cabin you want.
A Good Time to Buy a Sleeper Cabin Semi Truck
When you accumulate the experience to consider yourself a senior independent driver, you're placed to purchase the truck of your dreams. It's worth it too. If your spouse is your co-driver, and you live on the road, taking the dog along as well, why would you ever go home? 
If you are thinking about buying your own tractor-trailer rig as an independent, now is a golden age. Truck manufacturers offer extended sleeper cabins in various sizes. Additionally, if you know what you want, there are after-market companies that specialize in building spectacular sleeper cabins. You can have the eighteen-wheeler of your dreams, at a price. These babies can cost in the range of $200,000 to $300,000+.
Trucker Lifestyle Investments
The truck manufacturers will give you excellent choices for sleeper configurations. However, if you really want to go all-out, you have to go custom. While you can spend a fortune and it's not for beginners or employees, you can build a palace on wheels. 
There is one more thing that comes with the fanciness: Sticker shock! Custom features are not cheap. However, if it means you can stay on the road for the maximum hours per month and do it all year round, your investment in an extended sleeper cabin pays for itself.
What Makes A Great Sleeper Cab?
It's not so much a case of what you need as what do you want. Custom cabins the size of RVs change the way truckers live. And why not? If you're traveling OTR for weeks on end, you need to take care of yourself.
The type of sleeper is defined by the length it extends behind the driver's cabin. Height is another choice. You can find everything from a bunk over a storage locker to the equivalent of a mid-sized RV. Factory sleeper lengths from the top truck builders offer several lengths. They vary from under four to more than six feet, behind the day cab.
There are usually three heights to choose:
Low-rise cabins have upper storage space
High-rise tops give the choice of storage shelves or bunks, and skylights.
The larger volumes provide you with the space for lounge seats and tables.
The Most Popular Brands
Freightliner Cascadia
Freightliner is arguably one of the top tractor-trailer rigs these days. The company offers sleeper cabins that extend four, five, or six feet beyond the day cab on its Cascadia semi-tractor units.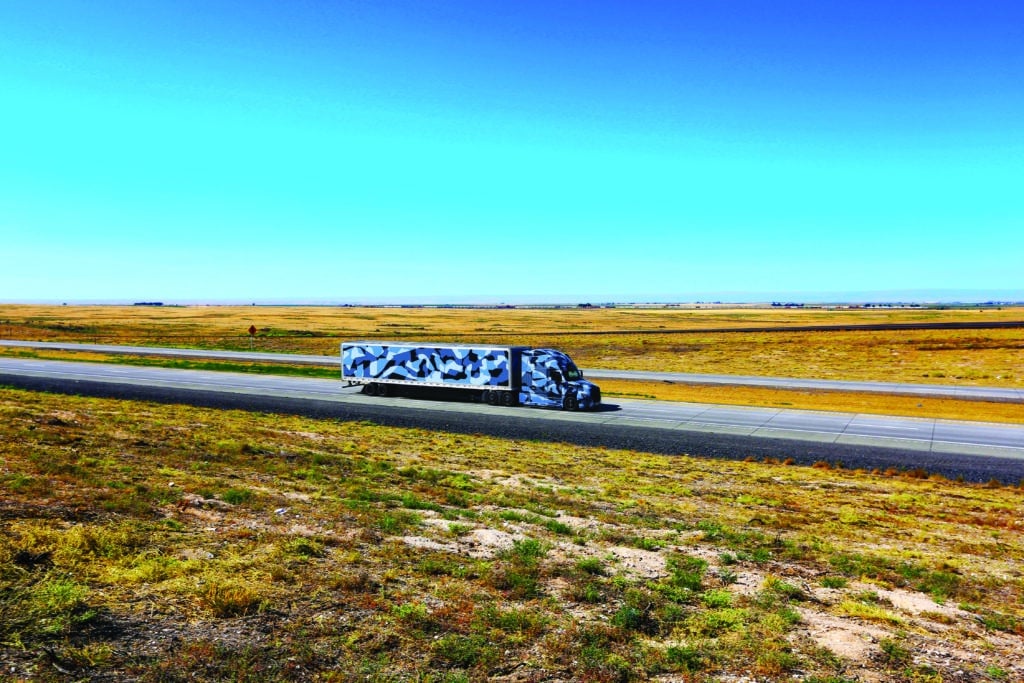 There's also a choice of high-top interiors that have enough space for overhead storage or a second bunk. Build your choice of features on the Freightliner Cascadia website to find the one that's right for you.
Kenworth
The Kenworth T680 is the next in line with a passionately loyal following of truckers. The factor options range from a 40" bunk on a shelf up to a 76" high roof condo sleeper. The Seattle area company is owned now by PACCAR, which also owns Peterbilt.
Peterbilt
Having two truck builders owned by PACCAR might make you wonder if there's going to be a consolidation. However, for now, the venerable Peterbilt brand is good to go, with all the features you would expect in a top-rated sleeper. There are many options in size, storage, shelving, and bunk configurations to choose from on both the 389 and 579 models.
International
You can build your own truck on the International Truck website for the Lonestar Sleeper or LT Series. Choose from 56" low-top to 73" high-rise. There are several semi-tractor units to choose from as well. The company offers a vast array of heavy-duty trucks.
Volvo
The Volvo car company (now owned by Chinese auto group Geely) is not to be outdone. The VNL 860 sleeper cabin comes from the factory with more than 77" of sleeper space. You still get the best of Swedish design and plenty of space to stretch out in the back. 
The Veteran Gear Jammers' Choice
While the five brands above are the most popular, Mack's Pinnacle and Anthem Series' deserves mention too. Mack offers similar features to the other brands, with 48" flat-top or the 70" Stand Up Sleeper with nearly 7' of headroom.
Many senior truckers, men and women you might describe as "old-school," swear by Mack the way bikers stick by Harleys. But if you want a certain look of respect from elder truckers; eye contact, a slight, approving nod, and the hint of a smile, a Mack Truck shows that you get it.
After Market Custom Conversions
The custom conversion market is where it really gets interesting. It's where you find the palaces that make you want to stay on the road forever. When you go custom, you get everything, including the kitchen sink. Bathrooms with showers, lounge areas, and beds. 
Extended custom sleepers from after-market specialists, like Alliance Truck Group, for example, are popular with independents. These truckers live on the road, handling cross-country freight or driving for moving services. You want a cabin with a kitchen, lounge and double-bunk and bathroom when you're that committed to trucking.
You can design a custom cabin that's seventeen-feet long if you wish. If you can stretch (sorry) to such lengths, you don't have to deal with truck stop fast-food and shower rooms, you're at home in the parking lot, ready to hit the road at the crack of dawn. 
Benefits to Attract Drivers
The trucker shortage is open-ended. It's a driver's job market, and that's not going to change any time soon. Transportation companies are more amenable to providing driver comforts. That means company sleeper units. It also means allowing you to have your family and pets on the road too.
So, even as an employee driver there are more opportunities to get the space you need on the road. These days, if you love the trucking lifestyle, you can have your home on wheels and workplace in one.
What sleeper cabin is your favorite? Share in the comments.
Geoff is a freelance writer at TruckersTraining.com with 20+ years of experience driving trucks and buses, dispatching, supervising, and training commercial driving teams. His expertise is writing topics on the transportation and trucking industry, and information technology trends.