The trucking industry has been in crisis for some years, not only in the US but globally, with the main problem being driver shortage. Post-pandemic, the full effects on economies and lifestyles are yet to be fully realized but the shortfall in truck drivers is unlikely to improve. 
Trucking is vital to the nation's economy with over 70% of freight in the US transported by truckers. This is according to 2019 statistics.
The industry estimates after the Covid-19 hit indicated a driver shortfall of over 88,000 jobs, with a probable steep rise in the next few years. The Covid-19 pandemic's significant impact on the trucking industry has stretched the existing workforce even further. 
With recession looming it is hard for optimism in this unforeseen situation, yet as the industry has been forced to adapt, positive results are emerging. Below are some positive outcomes for the trucking industry due to Covid-19.
1. Improved Status of Truckers
The reputation of truckers of a class of hard-drinking, rough-living men, loving life out on the road is not one that benefits the industry today. Changes in standards and conditions in recent years have helped upscale trucking as a desirable career to attract more applicants. This has received a big boost from the lockdown enforced by the pandemic. 
Almost overnight the value of truckers in keeping the nation supplied and the economy from collapsing has enhanced the nation's view of them. Facing the risks of contracting Covid, truckers have carried on doing their job and respect has come with this. 
Many workers will be looking for new jobs or careers after the damage caused to employment by the pandemic. The enhanced status of truckers may help attract recruits to a new career in the industry.
2. Paperless and Contactless Society
Many industries and businesses have implemented or extended their use of electronic methods of carrying out trade. For truckers, this has meant less paperwork and more computer records, electronic bills of lading, and contactless payments. Social distancing has led to communications between employers and staff or clients via computer on a more frequent basis than before. 
Virtual business meetings and webinars have replaced in-office discussions and conferences. These changes have speeded up some of the processes a trucker has to cope with on a day-to-day basis and are likely to continue post-pandemic.
3. Heightening of Health and Safety
Before Covid-19, the industry was in the process of implementing many changes in training, qualifications, safety, and welfare. Some parts of the industry were slow to adapt to these changes but the pandemic has made sanitation and safety essential and legally enforceable.
Sanitized trucks and meeting places, stricter safety procedures — many of them now possible by computer-distance application — have brought all trucking companies up to date. These conditions will continue to a high degree after the Covid-19 passes and can only benefit drivers and distribution workers. 
A truly healthy workforce is cost-efficient for the industry and socially beneficial.
4. Improved Fleets
Reports of the ongoing developments of trucking during the lockdown phase of the virus suggest that stronger fleets will emerge after Covid. Managers and associates have had to apply their ingenuity and inventiveness to continue operating during the restrictions and pressures of lockdown.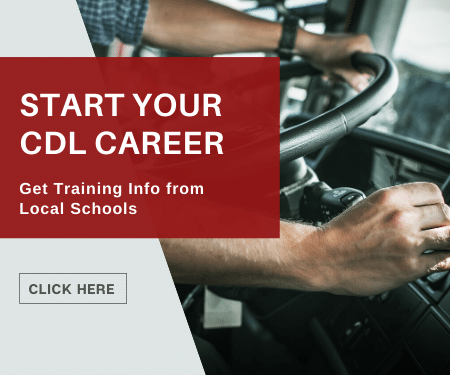 Fleet management experts have set up online courses and support systems to help sustain and improve efficiency which will remain effective long-term. Leadership qualities have come to the fore and companies have been able to make a more effective presence politically.
Clients and business meetings can be conducted entirely by video-link. Some managers have found that this way they have come to have better relationships with their customers in a way formerly lost in modern practices.
5. Distance Applications
Social distancing directives have led to more reliance on computers in the industry. Training was already going through a time of dramatic change which has accelerated due to Covid conditions. Learning modules can be studied at home or in classrooms fitted out to comply with social distancing rules. 
Many normal procedures for truckers can now be done from home, reducing travel time and fuel costs. Onboarding and orientation have come into a new age.
6. Computerized Orientation
This vital part of becoming a trucker can be an essential but arduous learning task. Fitting into a new role requires understanding a great deal about trucking life, procedures, and current policies and may involve a tower of paperwork.
Today, much of this can be achieved by computer studies at home or communally in socially distanced classrooms. Most of the information is stored on computers, tablets, and smartphones for reference at any time.
7. Onboarding Changes
This is a more complex stage of beginning a trucking career. It is more than just learning procedures but is something like 'learning the ropes' and involves understanding how things work in practice. This includes getting to know other truckers to fit in and be comfortable with the working environment. 
Many companies advocate in-truck time with veteran drivers to practice controls and handling vehicles as well as getting a feel for trucker life. This is becoming more difficult as old-school truckers have been leaving the industry en masse and social distancing prevents at the moment.
The introduction of truck simulators has made a difference in familiarizing newbies on handling various types of vehicles. Many feel this method is the way forward beyond Covid but retaining older staff to help with orientation may stem the loss of veteran drivers. New computer programs can also assist in many aspects of onboarding, ideally in combination with one-to-one training.
Takeaway
No-one wants a pandemic but, as in other times of crisis, necessity has brought out some of the finer qualities of humankind. Ingenuity and creativity have combined with survival instincts to usher in a new age to be fully realized in post-pandemic life. The trucking industry may emerge as a desirable and respected career and encourage a new generation of recruits. Hopefully, the dire predictions of long-term crippling driver shortage will be dispelled for good.
Geoff is a freelance writer with 20+ years of experience in driving trucks and buses, dispatching, supervising, and training commercial driving teams. His expertise is writing topics on the transportation and trucking industry, and information technology trends.