As a trucker, your career can be lucrative; not only are the pay wages decent when you start, but gaining experience and work benefits can be rewarding.
But, as a driver, you also have to know what you can do for a particular employer, in order to ensure you are earning the highest wages, and to ensure you are going to get the rate increases you want in the future.
Do Your Job
It is as simple as that. If you do your job, and if you work the routes, and get deliveries to your customers on time, you are going to receive compensation for it.
When you do your job well, and when you make your employer look good, they are going to reward you for this. So, take the time to do your job, build on your skill sets, and make sure you are always on time, and always treat your customers well, in order to ensure the pay wages are going to increase over time.
Consider a License Change
A simple license change and/or adding endorsements can earn you more money as a driver.
If you have a particular license, Class A CDL for example, there are more job positions and delivery options available to you, compared to Class B or C.
In addition, you will earn higher wages simply for being able to drive certain vehicles or haul specific goods such as hazardous materials.
Work More
Like any other employer, the more you work or the more miles you drive, your paycheck will reflect that.
As well, if you show your dedication to your job, your employer will recognize that and potentially provide you with more opportunities within the organization, such as an instructor or recruiter.
Stick Around
A green employee vs. a seasoned one makes a big difference in terms of your pay, promotions, benefits and opportunities.
Trucking firms invest in their employees not only in training but also in reward. Given the job shortages in this industry, employers will tend to reward their employees the longer they stick around, especially if their staff is skilled at driving and is a good ambassador for the company.
To summarize, there are several ways for you to get a promotion and earn a pay rate increase as a truck driver – be responsible, get skilled, work more and stay with the company.
In addition, it's important to underscore specializing in certain skill sets as a driver – having the top license class – Class A CDL, as well as adding endorsements, can mean the difference in a good trucking career vs. a mediocre one in trucking.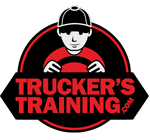 TruckersTraining.com provide information, tools and resources to potential truck drivers in the U.S. We hope that you can use the content on the site to help you decide if want to drive trucks for a living.